As I sit to write this I am surprised that I can't think of a single book that I absolutely LOVED as a child. Can you believe that? Me? The one who learned to read at three and hasn't put a book down since? Oh, there are books I remember reading like Little Bear, Dr. Seuss books, Curious George and the like.
Maybe I am limiting myself by thinking of just "picture books." Hmm…chapter books?
Ah, that's better! My sister received a copy of A Little Princess for her 3rd (or was it 4th) birthday. I remember being VERY jealous that she had her own chapter book to read. I enjoyed reading all about Ramona in the Beverly Cleary books. And the adventures of the Boxcar Children.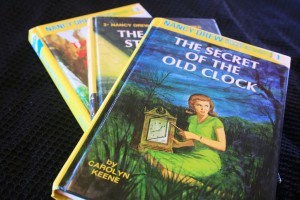 But the books I liked the most I think were the old Nancy Drew and Hardy Boys books. It was just fun to be spooked by the mysteries.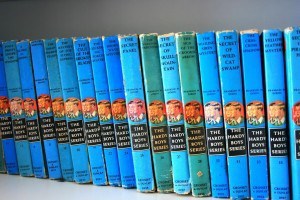 A couple of years ago I was browsing through an antique shop looking for an old trunk (which I found) and came upon a set of forty old hardcover Hardy Boys books. I dickered with the salesperson and was able to purchase the forty books for only $60, that's $1.50 per book! My children have enjoyed reading them just as I did as a child and now my nephews come to my house and borrow a couple of books a week. They enjoy listening to their dad read them aloud. So fun to see the love of these old treasures spreading!
What was your favorite childhood book? Write a post and link it here for Wordfull Wednesday.
© 2007-2010 Chocolate on my Cranium, LLC all rights reserved