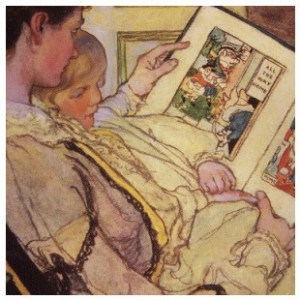 A funny thing happened after I wrote
last week's post
and mentioned how one of the indicators I use in knowing when my children are ready to read is to have them touch their ear with the opposite hand. My mom, who taught school for years before homeschooling us, was rather appalled that I used an "old wives' tale" on her grandchildren! She had never heard of that test for reading readiness before. After assuring her it was not
the only
factor we use I thought I'd better write a whole post dedicated to reading readiness.
First, in many Waldorf and Montessori schools that test is given to determine academic (math and reading) readiness. Look here and here and here for just a few examples. Also it is not uncommon for that test to be administered in other countries as well. Sally Goddard Blythe, a consultant in Neuro-Development Education in the UK, advocates that physical readiness, development of gross and fine motor skills, must be present for a child to do well when beginning school. You can read one of her articles here.
Other factors I look at to tell whether my children are ready to read:
Holds a book properly, turns pages, and can answer questions about the story after it is read to them.
Recognizes their name in print and starts to imitate handwriting on paper by copying letters they see around them.
Realizes there is a correlation between letters as symbols and the spoken word.
Starts to rhyme words.
Speaks clearly and in complete sentences.
These sites have reading readiness checklists:
10 Reading Readiness Skills for Kindergarteners
Reading Readiness for Visual Spatial Learners
Get Your Preschooler Ready to Read
And for some fun here are a couple online tests you can administer to your child to help determine reading readiness:
Readiness Test from Covenant Home
Reading Readiness Test from Succeed2Read
I tried looking at the Dept of Education site but that site is so bogged down with everything else I couldn't even sift through the search results to look for any 'official' checklist.
© 2007-2011 Chocolate on my Cranium, LLC all rights reserved