A couple of weeks ago Mr. Ferrero Rocher's cousin came with his twin sons for a visit. He brought a gift from his wife.
My favorite children's book, Just David by Eleanor H. Porter.
An original hardbound from 1916, the year it was first published.
She found it an antique shop.
The illustrations are lovely. Each picture has writing from the facing page that has transferred to it, it is that old.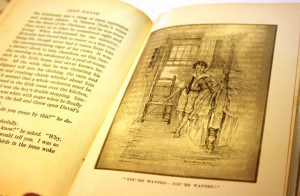 My favorite illustration of the whole book
I LOVE it! And feel so special that she knew what my favorite book is, found it, and sent it along to me.
What has been bringing you simple pleasure this week?
© 2007-2011 Chocolate on my Cranium, LLC all rights reserved