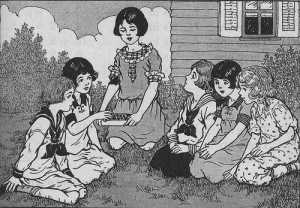 "A special gift is kindness,
Such happiness it brings,
When I am kind to others,
My heart sings!"
There have been so many acts of kindness, both big and small, shown to me throughout my life. Each has changed me in some way.
The most unexpected, simple gift of kindness I received was on November 18, 2008.
I was feeling very blue that day, not really comprehending why. My husband came home for lunch and seeing my low state took me out for a drive and some fresh air. When we returned my girls giddily handed me a bag of chocolates. "P— (my SIL) dropped this off while you were out. We think she got mixed up because it's not your birthday for nine more days still!"
I opened the little attached card to read "Thinking of you today."
And then a flood of emotions spilled out. This was the day my miscarried baby had been due to be born. How had she remembered? Had she written it down so many months ago, marking the date on the calendar? I don't know. I just know she remembered and she did something about it.
How many times have I remembered someone else's struggles but failed to do anything about it? Just doing some thing – making a phone call, sending a letter, giving a hug, sharing chocolate – goes a long way in helping someone. Through that experience I have tried to think more about others. It is a healing balm in itself to serve.
As a side note: I have done much better in trying to help people, but usually I have found my SIL has already been there! That is one of her divine gifts.
Today's Wordfull Wednesday topic is "Share a random act of kindness someone showed to you that helped you in turn to be aware of others and spread the kindness." Write a post and come link it up here!
© 2007-2011 Chocolate on my Cranium, LLC all rights reserved