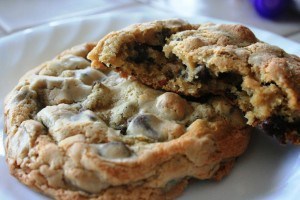 I know, I know, everyone already has a chocolate chip cookie recipe. I just thought I'd share our favorite one to use.
Chocolate Chip Cookies
2 sticks unsalted butter, cut into cubes
3/4 cup granulated sugar
3/4 cup lightly packed brown sugar
2 eggs
1 1/2 cups whole wheat flour
1 3/4 cups white flour
3/4 teaspoon salt
1 teaspoon baking powder
1/4 tsp baking soda
2 cups semisweet chocolate chips or chunks
1 cup walnuts, toasted
Preheat oven to 350 degrees.
In bowl of electric mixer fitted with paddle, cream together butter and sugars until well blended and fluffy, at least 4 minutes. Add eggs, one at a time.. and beat until well incorporated. Add flour, salt, baking soda, baking powder and mix until just combined. Gently fold in chocolate chunks and nuts. Scoop dough (about 2 tablespoons for each cookie) onto a greased or parchment lined baking sheet. Bake for 8-10 minutes.
These cookies are slightly thick and very gooey. Bake longer if you prefer a more "done" cookie.
© 2007-2011 Chocolate on my Cranium, LLC all rights reserved