Why is it after a big bout of sickness one feels like cleaning, decluttering and organizing? Whatever the reason that's what we've been doing. I made a big huge list of all the home improvements needs and ideas I could think of to try and make our home run a little better. We've been slashing our way through the list doing the easiest ones first. Little changes can make a big difference!
Example #1: We have three bathrooms. One is the master bath, the other two for the kids, although one of those is really tiny. Days where we all need to get ready to go somewhere, especially Sundays where we have to be out of the house by 8:15 are stressful and chaotic. There simply aren't enough mirrors and sinks for all the girls to get themselves ready. While we can't remedy the sink situation (just yet) we could create a bigger "beauty" station. The solution we came up with was to rearrange the baby's room, moving the dresser to the wall, buying a huge mirror to hang above it and having baskets with all the hair accessories on top of the dresser. Four girls can line up in front of it at the same time.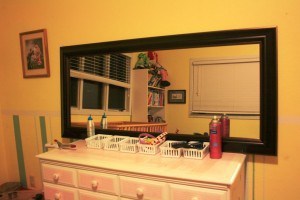 Sunday was the test run. Everyone was ready for church by 7:45! I couldn't believe how wonderful it was not to hear knocking on the bathroom doors answered by "Hurry! I need to have my turn!" or "You're taking too long!" Our morning was actually peaceful and stress free. Just what a Sunday morning should be.
Example #2: We also decided to try something different with our laundry this week. Every bedroom now has two baskets for dirty clothes – one for colored clothes, one for whites. Every room has been assigned a day of the week for them to wash their clothes. There is still someone in charge of laundry for the week but they only have to do all the tablecloths, napkins, and dishtowels as well as keep the laundry room neat and tidy. They also help the littler ones on their day to do their laundry. I think, this week, the laundry room has been the cleanest that it has ever been. There weren't multiple baskets piled high with dirty laundry or baskets of clean clothes waiting to be folded. We were actually caught up every single day. For our family of ten, that was a small miracle.
Planned for this week:
Sewing new curtains and pillow covers for the living room. We need splashes of bright color in there!
Reorganize every single cupboard in the kitchen. That will probably take two long working days.
We are also going to try something new with our dishes. I am tired of all the dirty cups taking up counter space. On the days we remember to put masking tape on each cup to label whose is whose the counters stay clean but most days we can't find the masking tape! I am taking a cue from Alison (again) and will be etching names on clear glass mugs. All of our dishes will also be put away in storage (with semi-easy access for when company comes) except for one plate, bowl , and etched cup per person. Everyone will be charge of making sure their stuff makes it too the dishwasher to be cleaned before the next meal. If not, they have to wash it by hand themselves. Hopefully this will cut down on the pile of dirty dishes we always seem to have.
I guess I could have scheduled this to be the homemaking post for Tuesday. Oh well.
******************************
On an entirely different superficial vein I was nominated for the Best LDS Female Solo Blogger of 2010. Voting is going on right now and ends around March 14th. If you feel so inclined you can vote for up to three of the nominees which are listed randomly with each page load (hint: mine will say Montserrat at Chocolate on my Cranium) Although I don't take much stock is stuff like this it is nice be recognized every once in a while. ;D Thanks Mrs. O for the nomination!
© 2007-2011 Chocolate on my Cranium, LLC all rights reserved