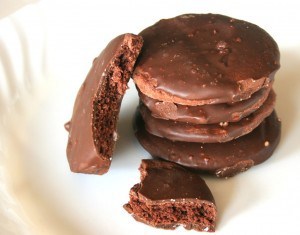 Pin It
Shall I tell you our sad tale? One of the few disadvantages to living way out in the country is missing the sale of Girl Scout Cookies. Some years we happen to be in town, at the store, when the Girl Scouts are selling their wares. Most years however we miss out completely. Boo!
This year we were really craving the ever wonderful Thin Mint Cookies. My two oldest set out to make their own. They turned out really good!
Of course, we don't have the real thing to compare them too . . .
Thin Mint Girls Scout Cookies
Chocolate Cookie Wafers
1 package fudge cake mix
3 Tbsp. shortening, melted
1/2 cup flour
2 eggs
3 Tbsp. water
1/4 tsp. peppermint extract
Chocolate Coating
2 cups semi-sweet chocolate chips
3/4 tsp. peppermint extract
2 Tbsp. shortening
Combine the cookie ingredients in a large bowl, adding the water a little bit at a time until the dough forms. It will be like playdough. Cover and chill dough for one hour. Preheat oven to 350 degrees. On a lightly floured surface, roll out dough very thin. Cut with a round cookie cutter. Make them big or small! Place cut cookie dough on greased baking sheet. Bake for 10 minutes. Remove cookies from oven and cool completely.
For coating: combine chocolate chips, shortening and peppermint extract in a microwave safe bowl. Heat for 1 minute, stir gently, then heat for 30 second intervals stirring after each until chocolate is melted. Don't zap it too long or the chocolate will scorch! Dip each cookie wafer into the melted chocolate and place on a wax paper lined baking sheet. Refrigerate until firm.
© 2007-2011 Chocolate on my Cranium, LLC all rights reserved