About seven years ago we did a unit study titled "Female Family History." Thanks to my mother and Mr. FR's aunt I was able to gather stories about many of my daughters' women ancestors on both sides of the family. We created a timeline starting with the girls and then traveled back in time learning about each woman in their ancestral line as we went. It was so fun and informative! We learned so much about the sacrifices these women made for their families. We learned of their hopes and dreams, their talents, struggles, and triumphs.
This month is National Women's History month. For next week's Wordfull Wednesday post I want to read about the women from your past. Do a little research if you need to and write a post about one of your female ancestors.
And now a big thank you to all who participated in the past three Wordfull Wednesdays! There were a total of 49 entries which I am thrilled about. The randomly selected winner is Cassi 🙂 from Peas and Mayhem! In going through Cassi's archives I found a lot of really good recipes so I know she enjoys cooking or baking. And her daughters are even getting in on the act! Cassi will get this beautiful Red Polka Dot Apron from the etsy shop PecanSandies.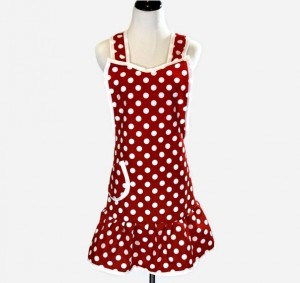 Congrats Cassi!
© 2007-2011 Chocolate on my Cranium, LLC all rights reserved