We have had a wonderful blessed Easter! After speaking to my two oldest on skype first thing this morning (they are in Barcelona), we finished preparing for church. I snapped this picture of my children with their new dresses (and tie for the boy!) before getting in the van.
Edited: Yes, I sewed all their dresses! The pattern is pretty easy and whips up fairly fast. The girls all wanted "Pride & Prejudice" era dresses. I even made one for me (but it doesn't look quite as nice on a pregnant mama). The two oldest will make their own when they return from Spain. We will all wear them again on Mother's Day. I'm hoping to get a family picture taken then and will post that when/if we do.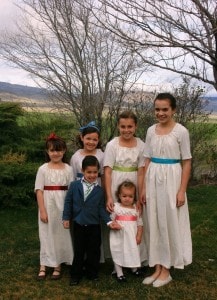 Church was wonderful as always. I sang a musical number, Beautiful Savior (that link is the BYU Mens Choir), with two other ladies. It is always a treat for me to sing with others that know how to harmonize! Usually I sing the alto part but today I sang 2nd soprano (can't quite hit the F the high soprano sang in the descant).
After church we listened to this amazingly beautiful and moving CD.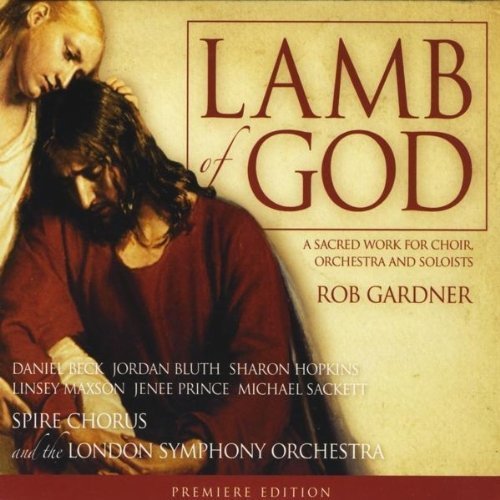 It is an oratorio composed by Rob Gardner and performed by talented soloists, the London Symphony Orchestra, and a truly angelic choir. It is the perfect way to celebrate Easter! To hear the story of the end of Christ's life put to moving music that touches the heart and soul – as my 8 year old daughter Fudge said during 'Hosanna,' – "It makes me have happy tears in my eyes."
You can hear selections of some of the pieces here, or purchase it here at Spire Music, or as an instant download from amazon
.
You can see a preview of Hosanna below:
I especially love how Rob Gardner chose my favorite instrument (what I call the instrument of heaven), the cello, to represent Christ in the music. Watch "Gethsemane" below to see for yourself.
As a special gift (I received my copy as a gift from a friend) I will send a Lamb of God CD to two random commenters on this post. Just answer this question:
What special thing did you do today to celebrate the atonement and resurrection of Jesus Christ?
GIVEAWAY NOW CLOSED
This activity goes along with day sixteen of The Living Christ: An Easter Countdown.
© 2007-2011 Chocolate on my Cranium, LLC all rights reserved