This activity goes along with day seven of The Living Christ: An Easter Countdown.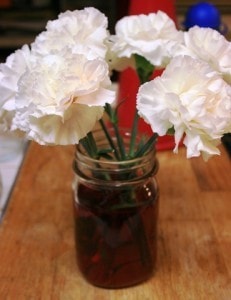 Two simple object lessons were done today to show how Christ takes away our sins. The first was a replica of this one shown by Jocelyn with a white carnation and water dyed red. Although we could see pink tinges in the center of the flowers just a few hours later, we will have to wait several days to see the full results. Oh yes, and everyone wanted their own flower so I guess we'll have lots of red tinged carnations!
The other object lesson we did also included dye and water. As we talked about sins that we commit we added a drop of food coloring into a small bowl of water. (Just a drop is PLENTY for this lesson) Then as we discussed the cleansing power of the atonement we added a few drops of bleach (more like a spoonful) to the dyed water and watched as the color was taken away.
Simple, yet effective, visual lessons that helped the younger ones particularly learn about the power of the atonement in our lives. How grateful we are to a loving Savior and Redeemer!
© 2007-2011 Chocolate on my Cranium, LLC all rights reserved