After having fun sewing all the different stitches our sewing machine can do we take a step back and learn to follow lines drawn on paper using the basic straight stitch on our machine. Do this with an old needle (or change the needle after doing this as paper will dull it) and NO THREAD.
Start by using graph paper and just follow lines going down. Once your child (or you!) gets the hang of sewing straight lines teach them how to pivot and do corners.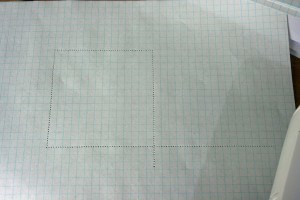 Stitch down a line on the graph paper and stop when you get to any point where another line crosses it. Leave the needle down in the paper. If your machine is like ours and automatically puts the needle up when you stop, turn the flywheel toward you by hand to put the needle down. Lift the presser foot. Turn the paper around to the line you will now follow and lower the presser foot. Stitch to another corner and do it all over again!
Once you get comfortable doing this then thread your machine with two different colors (one on the spool and a different color in the bobbin) and begin the whole process over again, sewing straight lines, then pivoting.
After this lesson with straight lines my child is usually ready for a break. The next several sewing lessons cover the same process but this time they follow curved lines and zigzag lines.
Here is a pdf file I created with various sewing lines to follow. Just print it off as many times as you need to get the hang of sewing on your machine.
Practice Sewing Lines for a Sewing Machine
After sewing on paper for several lessons, change your needle to a new one, thread your sewing machine, draw lines on fabric and practice sewing on fabric.
© 2007-2011 Chocolate on my Cranium, LLC all rights reserved