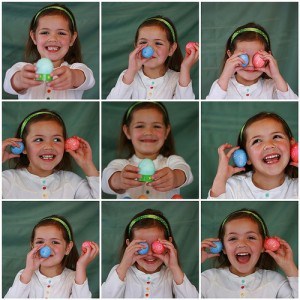 Fudge having fun with Easter eggs two years ago
Growing up Easter was always a favorite holiday of mine. When I was little (under 6) my mother would throw Easter parties for my friends and cousins. I faintly remember running around the outside of our brick house looking for eggs. It was so much fun I started that tradition with my own children. Every year we try to have some sort of fun Easter party with crafts, games, and of course, an Easter Egg hunt.
My kids pulled out some old home videos the other day. Several scenes were from an Easter party when my oldest was only about 6 or 7. To see my teenagers enjoying the video and reminiscing about that time gave me hope that they will want to continue that tradition with their own children.
One of the highlights of Easter was looking for our baskets. My dad came up with some of the best places! We had to search and search and search until we each found our own. One year they were in the oven, another up in the chimney. I don't know who had more fun, my dad in hiding the baskets, or the kids in finding them! That is another tradition we carry on, only ours are given on Saturday instead of Sunday. Sometimes I give clues for the children to follow, other times they have to follow a string here, there, and everywhere to find their baskets. And sometimes they are on their own searching and searching like I did as a child.
All these festivities are held on Saturday. By evening we are all ready to begin the more spiritual celebration of the atonement and resurrection of Jesus Christ. We make resurrection rolls to eat Sunday morning for breakfast, we read from the scriptures, and have a Jerusalem dinner. Sunday morning we all put on our new Easter clothes and head to church. The afternoon is spent together as a family, eating the traditional Easter meal, singing Easter hymns, reading more scriptures, and watching church videos about Jesus Christ.
Join us for Wordfull Wednesday! Write down some of your Easter memories on your blog and come back here to link up!
© 2007-2011 Chocolate on my Cranium, LLC all rights reserved