My grandfather's funeral was Tuesday. He has a large posterity – 12 children, 33 grandchildren, and 54 great-grandchildren. Most of us that could make it were gathered together to celebrate his life, to rally around Guelita (my grandmother), and to just be together. It was nice to meet so many of my cousins' spouses, whom I haven't met yet, and talk even for just a few short minutes.
Our trip was not long, we went Monday afternoon and came back Tuesday afternoon, so we didn't get to visit nearly as much as we'd like to with everyone. As we were driving to the funeral Tuesday morning Special Dark asked why our trip was so short. I replied that Dad had to get back to work and there were other things that also needed to be done at home. His response, "Why does Dad even have to come?!" We all got a chuckle out of that. He has realized whenever Dad comes our trips aren't as long because there is always something needing to be done on the farm.
I should have taken more pictures of family but was too busy visiting. Here are a couple of snapshots taken at the dedication of the grave.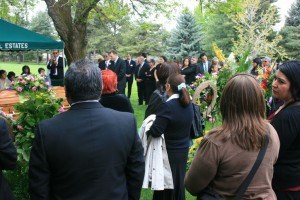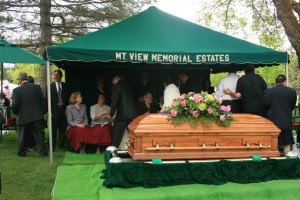 And here's a copy of my grandfather's obituary.
Samuel Alba Cruz 1919 ~ 2011
Samuel Alba died May 18, 2011, in the company of loved ones. Samuel was born November 25, 1919, in San Carlos, Coahuila, Mexico, to José Eduardo Alba and Mariana Cruz. He married Hermila Lydia Salinas on January 23, 1943, and they were later sealed in the Mesa Temple in October 1949. They are the parents of 12 children. Samuel grew up in the LDS church and was active in leadership positions all his life. He served as a branch president in Piedras Negras, Coahuila, and then as District President of the Coahuila District of the Northern Mexican Mission. After relocating to Utah, he served on the High Council of the Salt Lake Liberty Stake. Samuel and Hermila served two full-time missions together, one in the Dominican Republic and one in Barcelona, Spain. He was ordained a patriarch in the Salt Lake Sugar House Stake in 1997 with a special calling to serve the Spanish-speaking wards and branches of the Salt Lake Valley, a calling he faithfully fulfilled until his health would no longer permit. He was an active member of the Cumorah Branch (Spanish) in Midvale, Utah, and later the Lucero Ward (Spanish) in the former Salt Lake Temple View Stake. These units were precursors to the many Spanish wards and branches that dot the the Wasatch Front. Samuel immigrated to the United States in 1941. He was an entrepeneur in Mexico and Texas, owning businesses in construction and shipping. He worked at various jobs in Idaho and Utah and always valued learning and service. He attended school in Piedras Negras, where he received a certificate in accounting and general business. After losing his sight in 1988, he requested that Hermila and others continue to read aloud to him every day from the newspaper, magazines, books, and the scriptures. He often said to his children, "I will not leave you land or money as an inheritance, but I will leave you with an education." Through his effort and encouragement, all of his children were able to attain higher education and professional degrees. Samuel was preceded in death by three of his children – Samuel Rodolfo, Lydia Hermila, and Raymundo Erbey – by his parents, and by all but one of his 12 brothers and sisters. He is survived by his wife of 68 years, the love of his life, Hermila; by his children Edna Leonor, Samuel (Anne), Eduardo (Mary), Joel Angel (Rosa), Hermila Lidia Cutler (Chris), Isamare Ventura (Peter), Héctor Orlando (Sherilynn), Hiram (Jane), and Nancy Carolina; by his youngest sister, Margarita de la Garza, and a sister-in-law, Edna Naela Salinas; by 33 grandchildren, 54 great-grandchildren, and numerous nephews and nieces. Samuel was affectionately known as "Guelito" by many freinds and relatives. You are finally going home, Guelito. We bid you farewell until we are reunited for eternity. Until then, may the Lord keep you in his loving arms.
Being together with family is definitely a simple pleasure.
© 2007-2011 Chocolate on my Cranium, LLC all rights reserved