While I am trying to finish putting together my presentation on "Using Music to Build Spirituality" for the 16-18 year old young men in our stake (visit that link to read more about it) I thought I'd share some of the things we have been doing around here.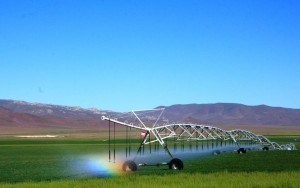 Watering our "gold" at the end of the rainbow. The alfalfa is growing nicely. We will probably start swathing next Monday.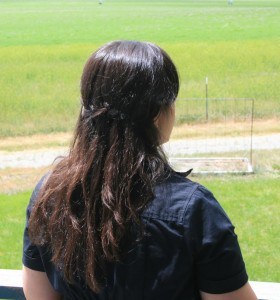 Trying new hairstyles. This is called a waterfall braid and is kind of hard to see in my dark hair. It is fast to do and looks beautiful! I learned how to do it watching this video at My Yellow Sandbox. Abby has 30 days worth of great hairstyles to try!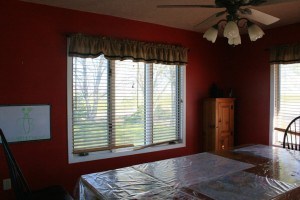 Changing our dining room from this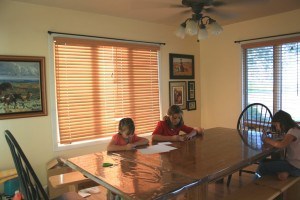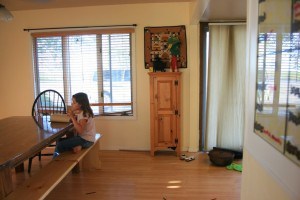 to this! The pale yellow sure brightens up the room, making it look larger and cleaner, if that makes any sense. I still have to sew the curtains. We still need to paint the window frames too.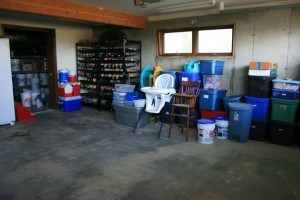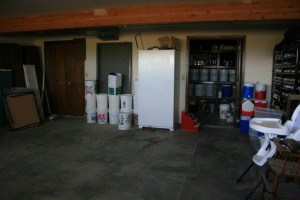 Cleaned out the garage. I don't have a before but trust me…it was bad. We don't use the garage to park any vehicles as the 15 passenger van doesn't fit. It stores our extra freezer, containers of clothes and holiday decor and our food storage. The buckets by the freezer are empty and need to be refilled. They are part of our three month rotating supply.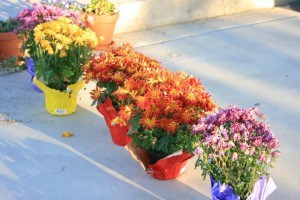 Buying mums on sale for $1 at Walmart to plant in the front flower bed.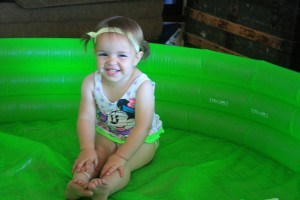 Pretending to swim in the living room.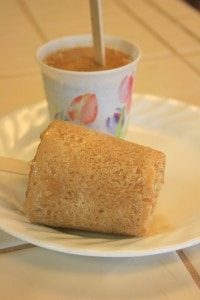 and last but not least. . . .making popsicles! Not just the regular kind. We've been trying the recipes from Smilemonster. The Root Beer Float on a Stick is delish (ours are pictured above).We plan on trying our hand at making some based on this super yummy key lime pie ice cream recipe. We'll let you know if we are successful. And don't worry, I have been watching my carbs with my gestational diabetes diet. I only take a few licks before giving the popsicle to Hershey. ☺
Next thing on the to-do list: Paint the kitchen cabinets
Finally a
to all who have left comments or sent e-mails with ideas for the music presentation. It is very much appreciated. So many good points and references. I think I will definitely be over-prepared but very ready for wherever the discussion leads. The presentation is scheduled for Wednesday so there will be no post tomorrow or Wednesday as I try to finish my preparations.
© 2007-2011 Chocolate on my Cranium, LLC all rights reserved