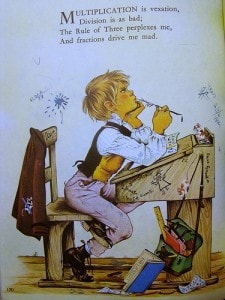 One thing I have learned about math with my children, if we continue to review the basics during breaks or vacation from school math goes a lot easier when we start up again. Here are some of the quick games and activities we do to keep their skills sharp.
Math War (a favorite): Use any deck of cards that contain numbers, shuffle them and divide them up evenly between two players. Before play begins decide which math function will be reviewed for the game – addition, subtraction, or multiplication. (This doesn't work well with division) Each player flips over a card at the same time, looks at the two numbers and figures out the answer in his head, calling out the number. This is great for subtraction for the littler ones as they must first figure out the largest number to subtract from. Sometimes we pair up older kids with younger ones – the older ones have to multiply the numbers while the younger ones just have to add.
Jump Rope Math: This can be done either with a regular jump rope for one child or get a long jump rope to involve more children.
Variation 1: As the child jumps give them a math problem to solve. They repeat the math equation and then jump the answer – "4 + 5 is 9, 1, 2, 3, 4 . . . ." etc.
Variation 2: Two children turn a long jump rope. They each yell out a number. The one jumping combines the numbers (either multiplies, adds or subtracts depending on what they need practice with) and jumps the answer like in variation 1.
Do a sudoku puzzle. Online games at Funbrain or printable ones from About.com.
Play Rush Hour. You may not think math is involved but it is great for boosting problem-solving and logical thinking abilities. We have the game from MindWare but there is an online version here.
Play Set

Again another problem-solving logic game that is really fun to play.
Worksheets. We print ours from Math Fact Cafe and SuperKids Math.
Water Painting. I give the child a spray bottle full of water and tell them a math equation. Using the spray bottle they "write" the equation and answer on the sidewalk.
Online math games. The ones at Sheppard Software are the best! They cover basics, fractions, time, money, decimals, measurement, and even pre-algebra.
Store. We set up a fake store with prices on things, give the kids play money, and let them shop. The cashier has to calculate the total without a calculator first, counts out change, etc. A calculator can be used to check for the correct answer.
What math games do you like to play?
© 2007-2011 Chocolate on my Cranium, LLC all rights reserved