This is another simple project my older daughters' first sewing teacher made with them. It is a great beginner project for boys and girls! And another useful item to have in the house. These are also pretty cheap to make which is a plus!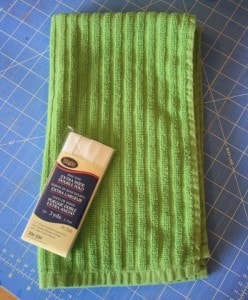 Materials Needed:
a standard dishtowel (mine measured 15 x 24 inches)
1 package extra wide double fold bias tape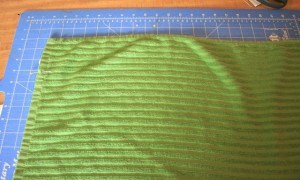 Step 1: Open your dishtowel and lay it flat. On one short side measure in 3 inches from each corner. Mark with a pin. Mark down 9 inches from the same corner on each long side. (See photo above. The short edge is on the right, the long edge of the towel on top)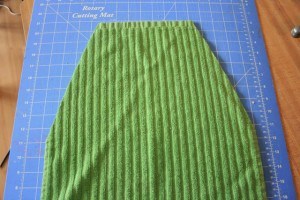 Step 2: Cut a straight line on each side from the 3 inch mark down to the 9 inch mark. Your dishtowel will look like the photo above.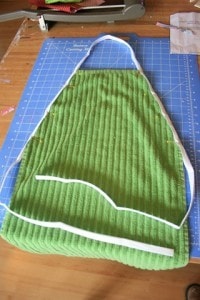 Step 3: You need 80 inches of your bias tape. Find the halfway mark of your bias tape (40 inches) and measure 8 inches on each side. These two marks will be where the tape meets the top of the dishtowel. Pin to the dishtowel at these marks and go one down making sure to stuff the raw edge of the cut dishtowel into the fold of the bias tape so that the tape fully encloses the raw edge. (see photo above) You will have 22 inch ties and a 16 inch neck hole.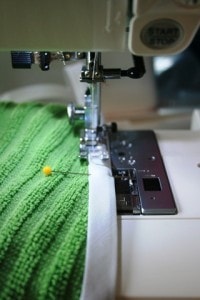 Step 4: Beginning at one end of the ties sew the bias tape together right along the edge and continue all the way around sewing along the edge of the bias tape closest to the fabric (see photo above) and down the other tie.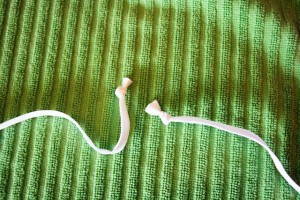 As stated in last week's Girls Kerchief tutorial, I don't make my beginning sewers try to fold the end of the bias tape in so there aren't any raw edges. Instead we just tie a knot at the end of each tie. (see photo above) DONE!!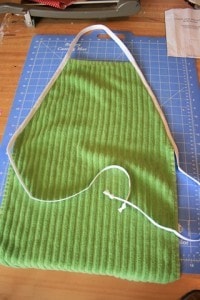 See? Quick and easy with no hemming.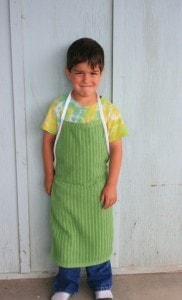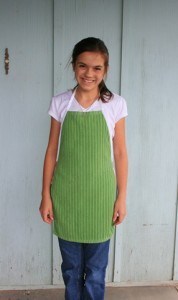 This apron will fit ages 4 (for full body coverage) to teens (for basic coverage). These make great gifts with a cake mix and come cupcake liners!
For a really cute baby apron try this tutorial, The Bapron, from Mr. Ferrero Rocher's cousin and this Vintage Tie Apron from Smashed Peas and Carrots.