decided to come all on his own after all?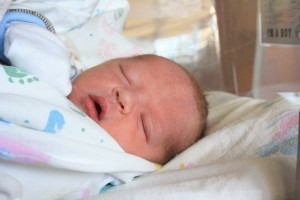 Gideon
(no middle name yet)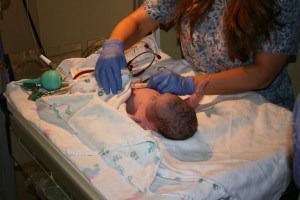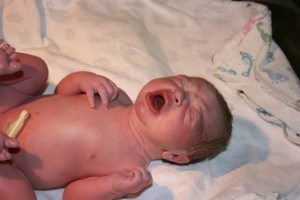 7 lbs 9 oz 19 1/2 inches

The story: A contraction woke me up Friday morning at 1:35am. I stayed in bed to see if I would have any more. The contractions came about every 15 minutes. After an hour I got up to walk around. Immediately the contractions became 5 minutes apart, though they weren't painful or hard. Then my water broke. I knew then we'd better get ready to go to the hospital. I didn't want to have the baby in the car, remember? I finished packing my bags, woke up Mr. Ferrero Rocher, who couldn't believe that I was actually going to have this baby without being induced. We woke up the three oldest girls to let them know we were headed in to the hospital. We left our house at 3:15am, arrived at the hospital at 3:45am, baby Gideon arrived at 5:19am. Labor was, thankfully, easy and dare I say it, non-painful. Seriously! The only contractions that hurt were the last four where I felt the need to push. I made myself breathe and relax through the first three, then on the last one told the doctor "I'm going to push" and voila, here came baby! I couldn't have asked for a better birthing experience.
There were several little miracles through all of this as well.

Miracle #1: I was really very nervous about being induced a week early. Would the baby be ready? Would his lungs be fully developed? Would my body be ready to give birth? I was praying hard that if it was at all possible the Lord would help me go into labor on my own so I wouldn't have to be induced. Then I would know that no matter what happened it was meant to be. My prayer was definitely answered!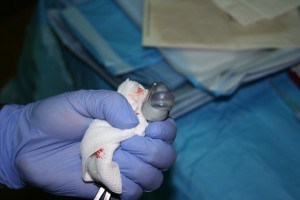 Miracle #2: There was a tight knot in Gideon's umbilical cord that we did not know about. It could have proven potentially fatal for him had we decided not to be induced on Monday and waited for his due date of July 25th. This, especially, made me realize how very precious and miraculous it is that so many births go "right" when they very easily could go so "wrong." It also helped confirm that our decision to be induced on Monday was the right one, even though in the end he came on his own.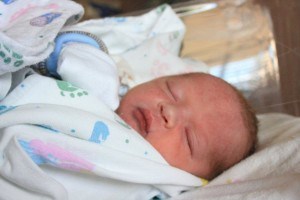 Miracle #3: Gideon's first glucose test right after birth was low and he had the shakes. Thankfully, he nursed like a champ and never had any trouble regulating his blood sugar after that.
We are so grateful to God for Gideon's
safe and healthy arrival!
© 2007-2011 Chocolate on my Cranium, LLC all rights reserved