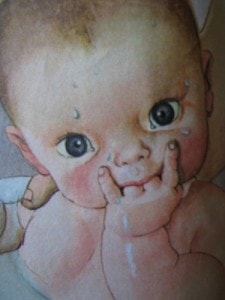 (I like this illustration because Mr. Ferrero Rocher remembers sucking those same fingers as a little boy. Thankfully none of our children has had troubles with finger sucking!)
As anyone who has ever had a baby knows, choosing a name is hard! There are so many factors to take into consideration: family names, does it go well with the last name, how many will there be with similar names that are their age, do you spell it normally or give it a twist, what does the name mean, are the initials appropriate or spell anything, and on and on.
Once in a great while a name comes up that just fits and you KNOW that is the name meant for your child. That has happened to us with a couple of our girls. Oh how I wish that were the case with this new little boy coming in just 12 days!! Instead we are having to work for it.
First thing we have to consider with names is the family that lives nearby. We don't want duplicates. Since we all farm together that is a lot of names to consider! Here's a list of first and middle names of the boys already in the family: (starred names come from the Book of Mormon)
Franklin Brent
Nathan Brent
James Nephi*
Joseph Hinckley
Jacob Moroni*
Benjamin Adam
Ammon* Hinckley
Jared Nathan
Jesse Gordon
Brent Nephi*
Jonathan David
Jedidiah Ephraim
Spencer James
Caleb Daniel
Ira Hinckley
Darren Arthur
Hyrum Daniel
Samuel Darren
David Arthur
Ethan Jacob
Franklin Dean
Daniel Ritchie
Brent Lyle
Joseph Brent
Lyle Brent
and from my side of the family:
Peter Gibbs
Pere Alba (Pere is the Catalan form of Peter)
Jonathan Alba
Kevin (ha, isn't that terrible I can't remember my brother-in-law's middle name!)
Spencer Jeffrey
Pere Samuel
I know there are several duplicates there already, mostly with middle names, fathers giving their first names as middle names to sons, etc. We are trying to stay away from duplication which means any family names, especially on my side, that we would normally consider don't even make the list. Take Samuel and Jedidiah for instance – both names we like, both great men on my side of the family tree, but have been taken by others already. Strike them off the list!
After scouring several baby name books, writing down anything I even remotely liked, then having Mr. Ferrero Rocher go through that list and cross off the ones he doesn't like, adding any he does that I didn't put on there we have FINALLY narrowed down the list to a select few. We have a list for first names and a list for middle names. (again those with an * are Book of Mormon prophets)
First Names
Enoch
Gideon
Henry
Israel (Mr. FR's addition)
Levi
Stephen (Mr. FR's addition)
Middle Names
Abinadi * (a-bĭn´a-dī)
Ashton (family name)
Don (family name)
Helaman* (hē´la-mun)
Moroni* (mō-rō´nī)
Mosiah* (mō-sī´a or mō-zī´a)
Murdock (family name)
As you can see from the first name list we are drawn to very old-fashioned names. Now to find the right combination. I'm afraid we're going to have to wait until we actually see this little guy to make a final decision. . . .12 days left and counting. I'll talk about that in the next post.
© 2007-2011 Chocolate on my Cranium, LLC all rights reserved