Any time we go to a baby or bridal shower, give birthday presents, or even Christmas gifts most people have come to know which gift is ours just because of our signature gift wrapping. Brown paper packages tied up with string.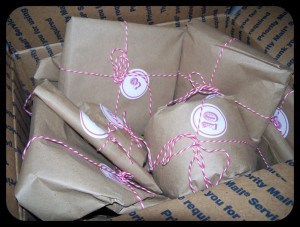 Here's an example of some I sent as part of a Twelve Days of Christmas swap.
I have a huge roll of brown paper, not too thin and not too thick, that we use. And 10 different colors of baker's twine from The Twinery. Easy.
Well here's another super easy wrapping idea. We received a package after Ganache was born that had some of the cutest wrapping I have ever seen!
The sender used school handwriting paper on which messages had been written, in our case scriptures.
Then wrapped each package in rainbow colored ribbon and added multi-colored gift tags. Isn't that ingenious?
You could easily customize each wrapper with words meant just for them. Or have your kids write their own messages when sending a gift to grandma. I love it! I think I may combine this idea with my own signature style and start writing on the brown paper.
© 2007-2011 Chocolate on my Cranium, LLC all rights reserved