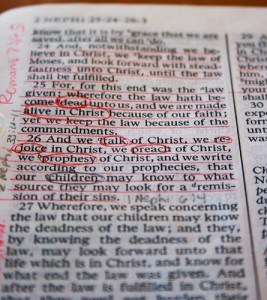 "For I am not ashamed of the gospel of Christ: for it is the power of God unto salvation to every one that believeth;"
Romans 1:16
"And we talk of Christ, we rejoice in Christ, we preach of Christ, we prophesy of Christ, and we write according to our prophecies, that our children may know to what source they may look for a remission of their sins." 2 Nephi 25:26

"My soul longeth, yea, even fainteth for the courts of the Lord: my heart and my flesh crieth out for the living God."
Psalms 84:2
"And we believe and are sure that thou art that Christ, the Son of the living God."
John 6:69
(Some of my favorite scriptures)
I am so thankful, grateful for the blessing of scriptures in my life. To courageous people, like William Tyndale who suffered and was martyred because he helped bring the Bible to the common man and Joseph Smith, another martyr, because he brought forth the Book of Mormon, we owe much. Without their sacrifices we would still be in spiritual darkness.
When I am feeling down, when I am feeling happy, when I am in need of guidance, or comfort, or reassurance I can find the answers I need in the scriptures.
"What a glorious blessing! For when we want to speak to God, we pray. And when we want Him to speak to us, we search the scriptures; for His words are spoken through His prophets. He will then teach us as we listen to the promptings of the Holy Spirit.

If you have not heard His voice speaking to you lately, return with new eyes and new ears to the scriptures. They are our spiritual lifeline." (Elder Robert D. Hales, Holy Scriptures: The Power of God Unto Salvation, October 2006 General Conference)
I have a new set of scriptures that are waiting to be read and marked and worn out with reading, studying, feasting. My old set are literally falling apart. I open them and the pages come out in chunks. I cannot throw them away though. They are my friends. We've been through much together. So many answers to prayer have been received through them. Wouldn't it be great if I could have a set of old worn out scriptures to pass on to each one of my children along with a scripture journal I kept while using them?
I'd better get busy.
© 2007-2011 Chocolate on my Cranium, LLC all rights reserved