We are slowly getting back into the swing of things around here. Friday we went to Fallon for a family gathering with Mr. Ferrero Rocher's parents and siblings.
Aren't they a good looking crew? We got a kick out of his dad's tie straight from the '70s! Hang on to things long enough and they definitely come back into style. And doesn't Mr. FR's mother look like a saint? She doesn't just look it, she IS a saint! She has to be to put up with all of us. ☺
As we were setting up for the big family picture the little boys decided to play some football their way. The object was to get the ball away from everyone else, run a ways, then throw it. They wrestled like this for at least five minutes before Special Dark finally got the ball and ran. All the rest of boys started crying. It was actually pretty funny because while they were wrestling for the ball they were laughing and having a great time but as soon as someone actually got it away from the rest the fun stopped.
Here's where I would insert the big family picture but it was taken on my SIL's camera so I don't have any copies of it. . . .yet. What I do have is all the grandkids minus the two oldest boys with grandma and grandpa.
I'll save you the trouble of counting. There are 40 grandchildren with #41 due the end of February. The ratio is 23 granddaughters to 17 grandsons. The two oldest grandsons aren't pictured as they are serving missions for our church, one in the Philippines and one in Brazil. The credit for most of the kids looking in the general direction of the camera AND smiling goes to my sister-in-law, Sylvia. She stood behind me with a puppet (the really nice kind with a stick attached to the arm and everything – think Muppet type of puppet) and said silly things while the puppet smacked the back of my head.
We had a great time! It was a much needed break, getting out of the house and into the sunshine.
Ganache continues to slowly gain weight. We can even see a slight double chin now! Of course, I have to post a couple of pictures of him. We were trying to capture how red his hair is to show my parents. This is a big deal for us as all the rest of my children had either black or dark brown hair (or no hair!) when born.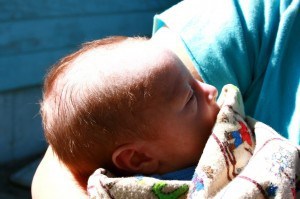 In the sunlight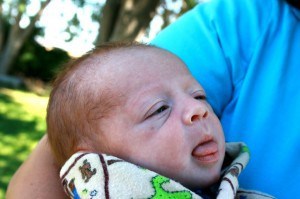 In the shade
I'll slowly get back onto a more regular posting schedule this week and next. Though, I must admit, the break has been really great!
© 2007-2011 Chocolate on my Cranium, LLC all rights reserved