I have one word to say about our Celebrate the Family event.
From the guest posts to reader's comments and blog posts to the giveaways it has been an amazing two weeks.Many thanks go to all of the guest posters and sponsors of the prizes!! And to you readers for visiting every day and commenting. THANK YOU!
We spend so much time with our families but how many of us consciously and intentionally celebrate them, not just with them (birthdays, anniversaries, etc) but actually celebrate THEM, THE FAMILY? That has been my hope for these annual celebrations – to bring focus to something so important in our lives. So many in today's world really want to keep their families intact but are at a loss for where to turn or even what to do. And some just want to know that there are others who believe as they do – that traditional families are the most important unit of our society and when those break down so does everything else.
Like me, I'm sure you have found new ideas, new insights, and a greater determination to make family a priority, to create a Christ-centered home. Elder Richard J. Maynes spoke beautifully last General Conference about establishing Christ-centered homes. I'd like to share a few quotes from his talk that really resonated with me, especially in light of our celebration.
Understanding the eternal nature of the family is a critical element in understanding Heavenly Father's plan for His children. The adversary, on the other hand, wants to do everything in his power to destroy Heavenly Father's plan. In his attempt to defeat God's plan, he is leading an unprecedented attack on the institution of the family. Some of the more powerful weapons he uses in his attack are selfishness, greed, and pornography.

Our eternal happiness is not one of Satan's objectives. He knows that an essential key to making men and women miserable like himself is to deprive them of family relationships which have eternal potential. Because Satan understands that true happiness in this life and in the eternities is found in the form of family, he does everything in his power to destroy it.
Satan is doing everything in his power to destroy the family, and subsequently everything that brings us joy. Taking mothers away from the home, confusing gender roles and the importance of gender, redefining the definition of marriage, sexualizing everything to create a promiscuous society are just a few of the avenues Satan is employing.
Which brings me to what we can do to fight back! Elder Neal A. Maxwell stated "The ways of the world receive constant reinforcement—should not the ways of heaven?" (Not My Will, But Thine, p. 133–34)
We learned that our children might not remember everything about the family home evening lesson later in the week, but they would remember that we held it. We learned that later in the day at school they would probably not remember the exact words of the scriptures or the prayer, but they would remember that we did read scriptures and we did have prayer. Brothers and sisters, there is great power and protection for us and our youth in establishing celestial traditions in the home.

Learning, teaching, and practicing the principles of the gospel of Jesus Christ in our homes helps create a culture where the Spirit can dwell. Through establishing these celestial traditions in our homes, we will be able to overcome the false traditions of the world and learn to put the needs and concerns of others first.
We have been told over and over again that our homes should be holy places. Why? Because it is in and through family that we learn to become holy if our lives are centered on Jesus Christ.
It has been a big leap for me worrying that I might offend those of my blog readers who are not LDS with this focus on a The Family: A Proclamation to the World. However, the gospel is the very center of my life. If I don't share that part of my life as well as the other things I share on this blog I am not being honest about who I am with those who read my blog. Thank you to the non-LDS readers of my blog for sticking around, making comments, and not taking offense. Though the celebration was based on a decidedly Mormon document the message is for all
Don't forget to visit The Red Headed Hostess, Welcome to the Madness, and We Talk of Christ today to see what wonderful goodness they have about the Family Proclamation!
Have you read the posts written by other bloggers about family? I encourage you to check out the blog hops and read all the posts linked in each one. The linky for yesterday will be open for another week so feel free to continue to link any posts you have written about family!


Your Welcome!
I'll post the winners of the giveaway prizes on Monday afternoon after today's giveaway has ended.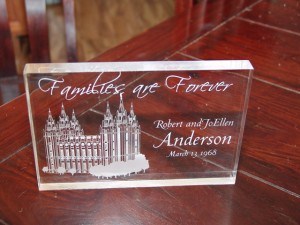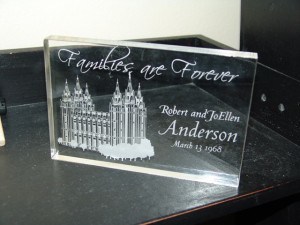 From Raaa100 comes a beautiful customized engraved acrylic plaque. This 5″tall x 9″ wide 3/4″ thick plaque can be engraved with any of the LDS Temples and inscribed with any name and date. Makes a lovely display piece!
© 2007-2011 Chocolate on my Cranium, LLC all rights reserved