Great Blog Hop yesterday! It will be open all week so you can still write your posts about a family mission statement or about any part of The Family Proclamation and link up. The next blog hop is this Thursday: Family Proclamation Photo Essay. Just show us several photos of your family with captions taken from The Family: A Proclamation to the World. Take a look at last year's photo essay blog hop for ideas.

Lovely Tonya is our next guest blogger. I'll let her introduce herself.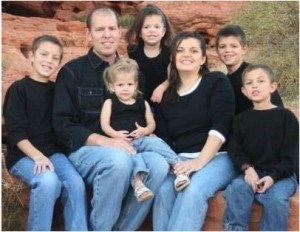 I grew up in Colorado and have spent the past 18 years married to a pretty incredible guy (ManOfTheHouse) who manages to tolerate my snarky sense of humor and has passed on only his most desirable traits to our children. Well, except those crooked teeth… can't win 'em all! The kids are now aged 7-16, so obviously the family picture needs to be updated soon! I blog about whatever strikes me as funny at
www.moreinfothanyouwanted.blogspot.com
and about the books I read at
www.whatallthekidsarereading.blogspot.com
. The rest of the time I run around between band practices, scouts, YW, dance classes, concerts, and whatever other nonsense my children decide to get themselves involved in this week 🙂
The divine plan of happiness enables family relationships to be perpetuated beyond the grave.
Sacred ordinances and covenants available in holy temples make it possible for individuals to return to the presence of God and for families to be united eternally.
Hey, I'm no scriptorian… I'm just your average Joe (well, maybe Jane) when it comes to church type stuff… and frankly, I think that's just fine. Any of my regular blog readers know that I have a rule about life: If it's funny, I'll do it. So of course this particular piece of the proclamation brings to mind something funny… maybe you saw the movie "God's Army"? Well, there's a great scene (which for the life of me I couldn't locate online to link up) where the missionaries are going house to house and enduring a lot of door-slamming… but they get a chance to tell one father a little bit about the church and how our families can be together forever… the rather exhausted looking father looks around him at the messy, screaming, hyper kids and tells the elders that they really don't have anything he's interested in. That cracks me up every time!
Don't ask me what the rest of the movie was about… I think it ended up being sad… I don't do sad really well…
Hey, that's IT… that's ExAcTlY what this section is for me… my reason to not "do sad"…
We've all experienced loss… I certainly don't have a corner on the grief market – and no worries, I'm not going to tell a tear jerker of a story. The fact remains that I've lost a number of people in my life… Grandparents, siblings, friends, a child… and although I don't do sad… I apparently do a very convincing imitation of sad… because there were plenty of tears. Despite all that – in my moments of despair – I was able to hold on to the truths I've been taught. I was able to find comfort in the plan of happiness and know that this earth life wasn't all there was. Comfort feels a WHOLE lot better than crying so much you run out of tears. (Okay FINE, I admit it… I still cry… I cry a lot… hey, I might be enlightened but I'm still human!)
I cling to my comfort – I cling to these truths – and they get me through each day. I have five children in my home now and sometimes I feel like that exhausted Dad in the movie… sometimes the thought of "forever" just conjures up images of folding laundry forever… or my kids complaining about what I made for dinner… forever… but truly, I can't imagine not wanting to share forever with these people who sometimes drive me crazy.
Maybe it's because I refuse to believe that Heaven will have laundry?
Or maybe it's because I have a perfect marriage (pfffft!) and sweet, wonderful, innocent children? (bwahahaha… oh sorry)
Here's a little truth for you: My marriage isn't all candlelight and roses… and my children occasionally bicker… and kick… and spit… and yell… but because I love them enough I still want them by my side. I want us all to make the choices in life that will allow us to be an eternal family… all of us.
Without the laundry I'm predicting a lot less bickering.
Thanks, Tonya! You've reminded us that though we lose loved ones in this earthly life we do NOT lose them eternally.

This elegant four generation family tree is hand drawn on archival quality heavy matte paper with pen and ink by Sioria. It is so important to know who you are and where you come from. If you don't know 4 generations back, she can send you links to some free resources to help you find your ancestors. Image fits into an 5 " x 7″ or an 8″ x 10″ frame.
Selling bright and modern artwork for your home Sioria is offering all of you a 10% discount through the end of September! Just enter code 'celebratefamily' without the quote marks into the code box upon checkout. Use the code yourself or tell a friend!
© 2007-2011 Chocolate on my Cranium, LLC all rights reserved