"There is something inspiring and sublime about the little forget-me-not flower. I hope it will be a symbol of the little things that make your lives joyful and sweet." ~Dieter F. Uchtdorf~
The General Relief Society meeting was wonderful! My favorite talk of the evening was Pres. Dieter F. Uchtdorf. Of course, I had to make a print** to remember to 'forget not.'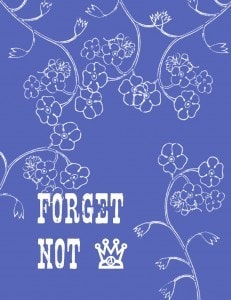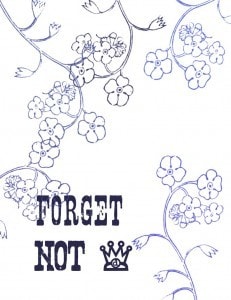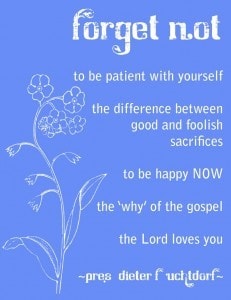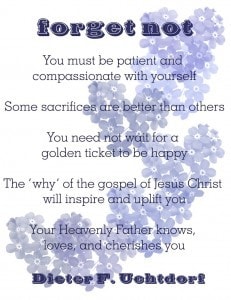 Do you want one too? Click on each to open in a new window. Then right click and save to your computer. They are high quality 8×10 prints.
You may notice the two bottom prints say the same thing but with different words. The first was taken as Pres. Uchtdorf spoke about each petal of the forget-me-not individually. The second comes from the end of his talk when he summarized each "forget not."
"I do know now I was never forgotten. And I know something else and as an apostle of our master Jesus Christ, I proclaim with all the certainty and conviction of my heart and soul, neither are you. You are not forgotten! Sisters, wherever you are, whatever the circumstances may be, you are not forgotten. No matter how dark your days may seem, no matter how insignificant you may feel, no matter how overshadowed you think you may be, your Heavenly Father has not forgotten you. In fact, He loves you with an infinite love. Just think of it! You are known and remembered by the most majestic, powerful and glorious Being in the universe. You are loved by the King of infinite space and everlasting time. He who created and knows the stars knows you and your name. You are the daughters of His kingdom!"
~Pres. Dieter F. Uchtdorf~
Did you miss the broadcast or want to watch it again? You can watch it here. Just make sure that under the video you choose General Relief Society Meeting.
**No, I didn't make a foolish sacrifice creating these! I was up feeding Ganache while everyone else was sleeping. ☻
Pin It
© 2007-2011 Chocolate on my Cranium, LLC all rights reserved