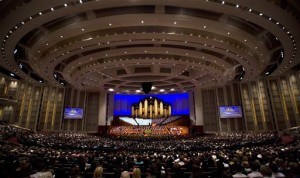 Inside the Conference Center
General Conference is only one week away! We are gearing up for one of our favorite weekends of the year by making sure we have everything in stock to carry on our semi-annual traditions:
* Creating a General Conference Wall (for children and one for teens)
* Baking Cinnamon Rolls while Dad is at the Priesthood session Saturday evening
* Bingo cards and General Conference Packets for the younger kids
* Note taking packets for the older ones and teens
In a first of its kind invitation, members are invited to share what General Conference means to them through video by filming your October 2011 General Conference experience. Do you watch with your family gathered around the television in your living room? Do you listen via the internet? Or do you make the trek to Salt Lake to attend one of the sessions in the Conference Center?
Whatever your experience the church wants to know! In an article announcing this invite we are told, "Submissions will become a part of Church history. Following the November 1 deadline, the Church Media Services Department will use the submissions to create a short film titled "Come, Listen to a Prophet's Voice," which will not only document the faith of Church members as they do just that, but will also serve as a digital invitation to the entire world to do so as well."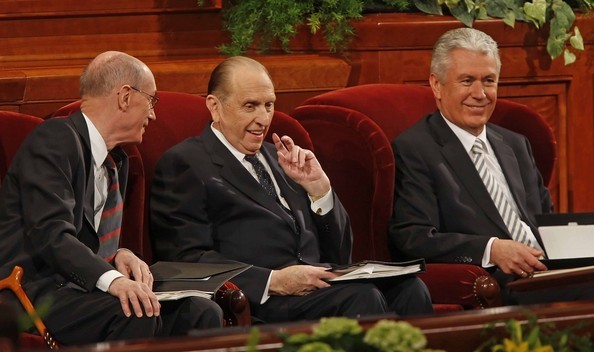 Pres. Henry B. Eyring (1st Counselor), Pres. Thomas S. Monson (prophet), Pres. Dieter F. Uchtdorf (2nd counselor)
Use the best video equipment you have, even if it's just your phone. Keep the clip short (they're not looking for movies!) and have fun recording how YOU listen to a Prophet's voice.
© 2007-2011 Chocolate on my Cranium, LLC all rights reserved