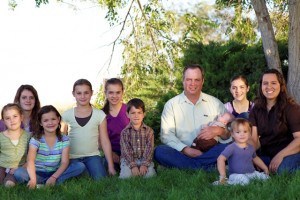 You already knew that though, right? This past Sunday little Ganache was blessed. (For those not of the LDS faith, a baby blessing is similar to a christening in that it is a naming ceremony but there is no baptism. We don't believe in infant baptism, rather our children are baptized when they reach the age of accountability, eight.) Mr. Ferrero Rocher gave a beautiful blessing. When it comes to his family Mr. FR is a very tender hearted man!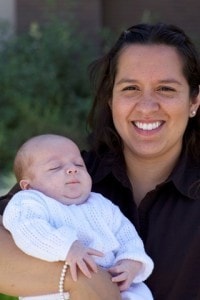 These two pictures are the only ones we have of Ganache in his blessing outfit that day.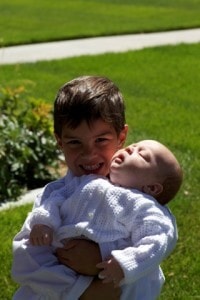 One of the drawbacks of formula is all the yellow spit-ups that occur! By the end of church his outfit needed to be washed. I plan on dressing him up in the next day or so to take pictures. It makes me chuckle every time I look at these pictures (the two above and the ones below). Ganache doesn't look a thing like me or his big brother. . .
but he sure looks like Mr. Ferrero Rocher! The last one is my favorite of them looking at each other. As you can tell from the photos Ganache is chunking up quite nicely now. He has a definite double chin, though there aren't any real rolls on his arms and legs yet.
Tomorrow our celebration on the family begins. I am so excited!! You certainly do not want to miss it. There are some wonderful guest posts scheduled and ready for you to read and ponder. Jaime, Shannon, and Jocelyn also have some terrific writers lined up for their blogs too. And for a little teaser, can I just say Shannon has some very well-known people lined up! (There's three links there to click on)
Come celebrate the family with us. I hope to see you there!