****Giveaway in now closed. Thanks for the HUGE response! The winner was #86 Lorri Love****
As is pretty typical of many homeschoolers, we love history, particularly American history. It is rich in stories of triumph and failures, freedom and slavery, great men and women all shaping our country, and I believe, being led by God in the making of it.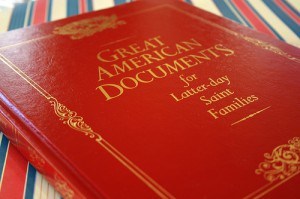 See this book? It was immediately put on my wish list when I saw it in the Deseret Book catalog. Do you do that too? Add books to a wish list so when people ask what you want for Christmas you are constantly telling them book titles?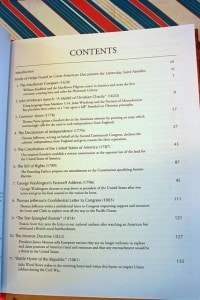 Great American Documents for Latter-day Saint Families is a treasure trove for any LDS homeschool! Can you see what is listed in the table of contents? Here's a list if you can't read the photo:
The Mayflower Compact (1620)
A Model of Christian Charity (1630)
Common Sense (1776)
The Declaration of Independence (1776)
The Constitution of the United States of America (1787)
The Bill of Rights (1789)
George Washington's Farewell Address (1796)
Thomas Jefferson's Confidential Letter to Congress (1803)
The Star-Spangled Banner (1814)
The Monroe Doctrine (1823)
Battle Hymn of the Republic (1861)
The Emancipation Proclamation (1863)
The Gettysburg Address (1863)
Abraham Lincoln's Second Inaugural Address (1865)
The Nineteenth Amendment to the United States Constitution (1920)
John F. Kennedy's Inaugural Address (20 January 1961)
Martin Luther King's "I Have a Dream" Speech (28 August 1963)
Ronald Reagan's Speech: "The Boys of Pointe du Hoc" (6 June 1984)
Impressive, right? And they are all in one convenient book! Just reading the book straight through would be an excellent study of American history, or it can easily be used as a supplement to other American History curriculum especially if you are wanting to add an LDS perspective to your studies.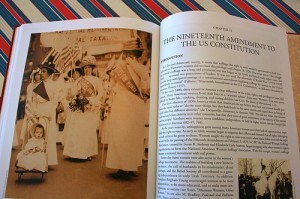 The book has wonderful photos accompanying each chapter. I just love this photo of marching women suffragettes! One of my daughters pointed out they are a far cry from the protesters we are seeing today in the news. These women are clean, comely, and modest! And the baby is right there being pushed in a baby carriage. Love that tidbit.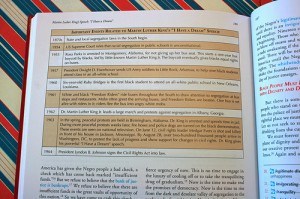 Another wonderful feature is the timelines throughout for a quick overview of what happened. Knowing the events that took place leading up to a bigger event give us a greater understanding of why something happened.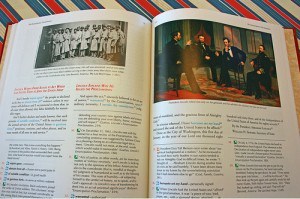 And the biggest reason that this book was on my wish list – the added insights at the bottom of the pages and under the photos. See that photo of the black Union soldiers (top left)? I knew there were units of them that served in the Civil War but I didn't know, as stated under the photo, that at one point there were more black soldiers serving in the Union Army then there were white soldiers serving in the Confederate Army. WOW!! Did you know that?
At the bottom of the pages, there are word definitions, background information, quotes from modern day prophets and apostles, and scriptures references. This book saved me the work of finding those to use with our studies (and if you know me, I would have taken the time to find them!). We ALWAYS try to incorporate the gospel in our studies or rather, we incorporate our studies into the gospel. This book is truly a treasure to have in our homeschool. Actually it would be a great addition for any American family to have and study together. Perfect family home evening reading!
GIVEAWAY: Surprise! Thanks for reading to the end of this post. Would you like to win your own copy of Great American Documents for Latter-day Saint Families? Leave a comment telling me what great American document you haven't studied yet but would like to learn more about.
Giveaway ends Monday, October 31 at 5 pm PST.
© 2007-2011 Chocolate on my Cranium, LLC all rights reserved