I know, I know today is Friday. It's supposed to be time for a homeschooling post. As is typical of most homeschoolers I think learning takes place all the time, not just with scholastics. So for those who don't know about feed readers consider this a learning post! 🙂
Feed readers are a place where you can get updates for all the blogs you read in one spot. Think of it like an inbox for your e-mail. Every time a blog posts something new it will show up in your feed reader. No more going to each site to check to see of they have posted. The feed reader will let you know. It saves a TON of time!
There are a variety of feed readers out there. My favorite is Google Reader. I'll show you why in a minute. (If you already know about feed readers and/or use Google Reader scroll to the bottom of the post to see the main reason why I like it.) If you already have a blogger account you have access to Google Reader. If not I recommend setting up an account.
When you log into your Google account you can find Google Reader by clicking on the more link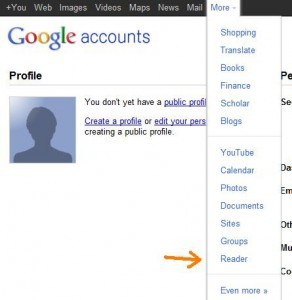 This is what the Google Reader Screen will look like (below).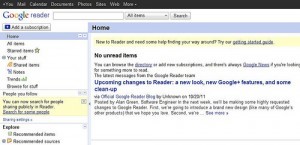 Nothing is there! You need to add the web addresses of the blogs you read. This initial set-up will take some time but it is ALL worth it in the end. Go to each blog (in a new tab or window), copy the address in the address bar, then come back to google reader, and click on the 'Add a Subscription' button. Paste the blog address into the popup window and click 'add.' (see picture below)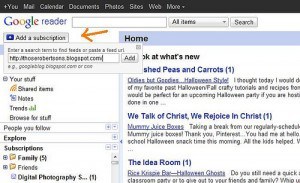 That's it! After adding all the blogs you read you are set. Anytime you find a new blog you want to follow add it the same way.
Every time you open Google Reader it will open on the 'home' page.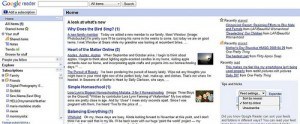 You can see how many new blog posts there are to read. If you click on 'All Items' it shows you all the new blog posts in one spot.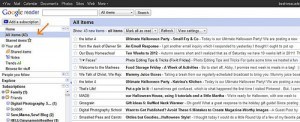 (this is showing the list view) To read each post just click on each title.
Now that's the way I read blogs for several years, right in the reader. It saved time but there was a downside to it. All you see are the posts. You don't get to see the eye candy that each blog shows, you know – the personalized header, the background, other links on their sidebar, etc. And if I wanted to leave a comment there is the extra step of clicking on the title of the post again to open that blog in a new window so I could leave a comment. Honestly, I didn't comment as much because of that.
Here's a trick I learned last year that combines the function of Google Reader with the experience of actually visiting each blog. While in Reader click on manage subscriptions at the bottom of the blog list. (see photo below)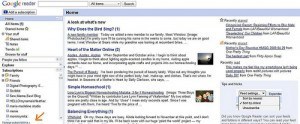 The screen will now look like this. Click on 'Goodies.'


And scroll down until you see "Put Reader in a Bookmark."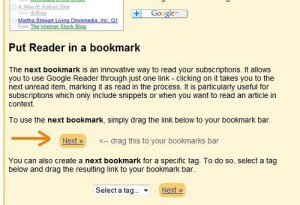 Click and drag that next button up to your toolbar right under the address bar. Now you have a 'Next' button with a google G on your toolbar. (see photo below)


Click on it and it takes you to the next unread item in your Google Reader. It takes you directly to the blog! And automatically marks it as read in your Reader. Now you can experience what you love about blogs, reading the posts, browsing through their sidebar links, commenting, etc without having to check each one to see if a new post have been posted.
How do you read blogs?
© 2007-2011 Chocolate on my Cranium, LLC all rights reserved