Read the first part of the tutorial here.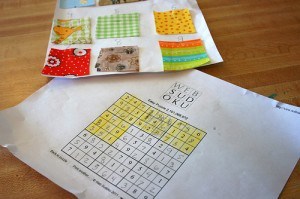 The next step in making your quilt is to start sewing! Follow your Sudoku puzzle, grid by grid, to sew each nine patch block together. Always refer to your fabric assignment paper to know which "numbers" or fabric you are to sew together (both are pictured above). I am assuming you know to put the pieces right sides together as you sew so when you press it open the seam is on the wrong side of the fabric.
☺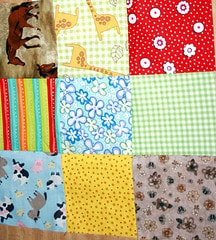 (wow that's really blurry. And tilted. Sorry!)
Here is the first nine patch block Fudge (9) sewed following the first 3×3 grid in the Sudoku puzzle (top left of the puzzle) You can see how she has kept track of which blocks she has sewn together by coloring them in.

Pictured above is the first row of nine patch blocks.

Can you see how each block only contains one square of each fabric?

And each row only contains one square of each fabric? When the whole top is completed each column will also only have one square of each fabric. Fudge has one more row of nine patch blocks left to sew. Hopefully we'll be done by next week so we can post the next part of putting the quilt together!
As a side note, when my beginning sewers are sewing their first quilt I don't make them line up all the seams perfectly, although I do make them press the seams after sewing each one. Remember, we want this learning part to be fun not a chore!
© 2007-2011 Chocolate on my Cranium, LLC all rights reserved