Through the rest of October I will be posting some of my simple pleasures of autumn.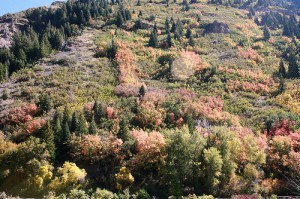 1. Beautiful fall colors – photo taken the end of September driving from Provo to Heber.
2. Pumpkin pie spice – I've been sprinkling it on my hot chocolate. Mmmm.
3. Crisp morning air. I feel like opening all the windows at 5 am to wake everyone up and fill the house with it. But instead I enjoy it by myself during my personal morning scripture study.
4. Crunchy, sour apples from my sister-in-law's tree. I LOVE sour apples!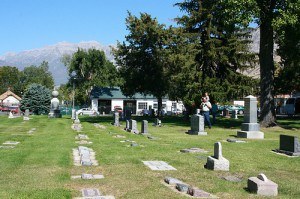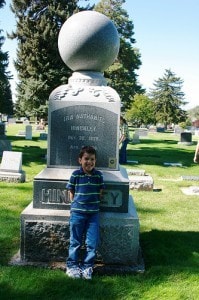 5.
Cemetery Hopping
– While on our trip to Utah Mr. Ferrero Rocher found the graves of his great-grandparents unexpectedly while walking through the Salt Lake Cemetery waiting for me. That prompted a cemetery hopping excursion the next day. We traveled to the Provo Cemetery (photos above) to find his ancestor Ira Nathaniel Hinckley who Special Dark is named for. From there we drove up to Heber to find the graves of his grandparents, Royal Crook and Willmuth Witt Crook, as well as his other ancestors: Joseph Stacy Murdock, Minnie Lindsay Crook and Frederick Crook, and others in those lines. We also drove around Heber looking at landmarks or homes where his ancestors lived. Thanks to Mr. FR's Aunt Mary who had sent a document last year detailing all the places and why they were special to his family history. For those that live in Heber, Grandma's Drive-Thru is the home where Mr. FR's grandmother was born. Directly across Main Street from that is the home Mr. FR's great-grandparents, Fred and Minnie Crook, built and lived.
6. And, finally, Momzoo posted this quote on facebook yesterday. I couldn't resist making a printable of it, in three color options. Click on the print to open in a new window. Each is 8×10.
What are your simple pleasures this week?
© 2007-2011 Chocolate on my Cranium, LLC all rights reserved