We had a rather exciting weekend. A lightning storm rolled through Friday, no rain but LOTS of lightning that started several wildfires in our county. One right on the mountains to the east of our valley.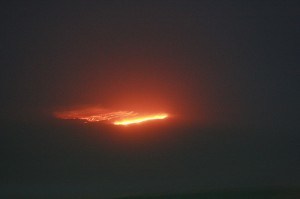 The lightning struck on our side of the mountains Friday night but the winds were blowing to the east. Obviously I should have used my tripod to steady the camera. But there wasn't time. These mountains are literally one mile east of our house. Since lightning was striking all over them the air was crackly feeling. It wasn't safe to be outside so I snapped a few quick pictures and we all ran back into the house. The orange glow silhouettes one of the top ridges of the mountain. The other flickers off to the left are just me not holding the camera steady. We went to bed Friday night wondering what we would see in the morning.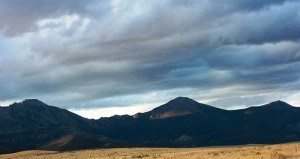 East side of the mountains
As it turned out, not much, at least on our side of the mountain. By Saturday afternoon the whole east side of the Bloody Runs was blackened! Andthe fire had also started down our side of the mountain. These next few shots were taken Saturday evening on into dusk as I drove around with the kids while Mr. Ferrero Rocher attended the priesthood session of General Conference. These are all our side of the mountain.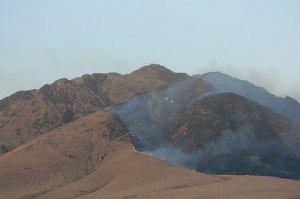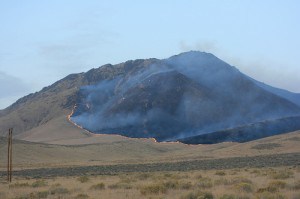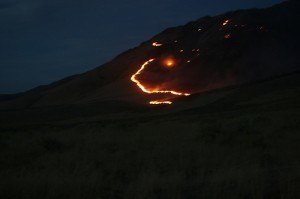 We could smell smoke all Saturday night so we knew the winds were blowing ever so slightly in our direction. Sunday morning this is the sight that greeted us.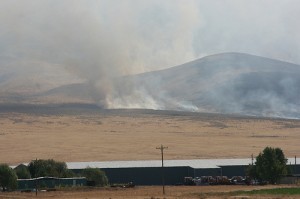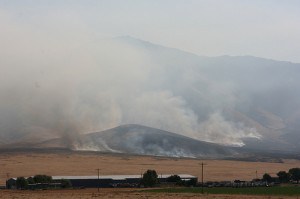 That is the neighboring farm's shops (1/2 mile down the road) you see in the picture! We heard and saw planes and helicopters throughout the day on Sunday as the planes dropped fire retardant (red boron) and the helicopters dropped water onto the mountain peaks.
All in all, a total of 21,068 acres were burned. Thankfully, no structures or human life was lost! Though a lot of good range land for cattle was destroyed. This is what we see now.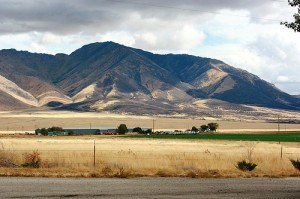 My neighbor also posted about the fire. Take a peak to see more pictures and get their story.
My simple pleasure this week is fire crews and their ability to fight wildfires! What simple pleasures do you have this week? Please share in the comments.
© 2007-2011 Chocolate on my Cranium, LLC all rights reserved