As is typical many times when I write, this post took a different twist then I expected. I initially sat to write about a couple of experiences from my childhood but when I started typing, something entirely different came from my fingers. And so I am writing this beginning paragraph last.
Last week I made the trek to the store with all nine children in tow. That rarely happens nowadays as most of the time the older girls stay home to watch the younger children while I only take one or two with me for some mommy attention. As it was a 'good' day, meaning all of the children were behaving, it was quite an enjoyable trip to boot.
In the course of traipsing about the store I inevitably was asked, "Are they all yours?" followed by, "My, you are brave." It was that comment that really resonated with me.
Why would she say I was brave?
Was it that I had so many children?
Or that I took them ALL to the store with me at once?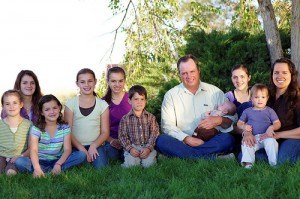 Yes, it would appear that a sight like our family can be rare indeed. Is that what prompted the comment?
Or on a deeper level….(these are the questions that kept me up that night)
Am I brave because I dare to show where children rank in my life in this world of "me?"
Am I brave because I just try to follow God's plan for my life, which for me means having a lot of children, by answering His call as Mary did, "be it unto me according to thy word?"
Am I brave because I chose to have children in the first place? And raise them as Pres. Boyd K Packer stated "in enemy territory?"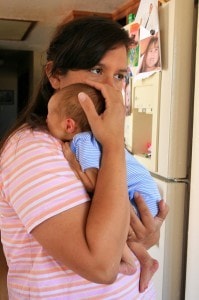 Is it brave to welcome another little soul into my life, to risk my heart being ripped and broken by – an illness, an accident, or choices that might be made down the road of life?
Motherhood is a daily show of bravery.
The bravery of swallowing pride and admitting you were wrong. Of teaching children even mothers make mistakes and are in need of Christ's healing grace.
It is helping to strap on the armor of God, that our children may fight the battles that will come to them, while you watch them grow to adulthood and question yourself, "Have I done enough?" type of bravery.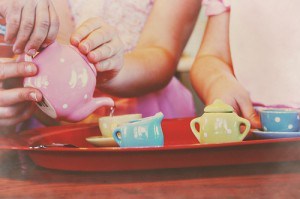 It is finding the beautiful in the most mundane of tasks because beauty is in the eye-of-the-beholder bravery.
It is back breaking, knee bending, tears streaming bravery.

Join us for Wordfull Wednesday! Write a post about a time you were brave. Did you have to face a phobia, speak in front of a lot of people, lock up the dog on a moonless night? We want to know! Come back here and link up to your post. All participants are automatically entered for the October Wordfull Wednesday giveaway (the prize is always a surprise but is guaranteed something good from Etsy!). The odds are excellent right now, only three entries from last Wordfull Weednesday.
© 2007-2011 Chocolate on my Cranium, LLC all rights reserved