Yesterday on our way to town for Ganache's 4 month immunizations, we finally stopped to check our mail. It had been a whole week! Our mailbox is 15 miles from our house. We only check it when we are going to town – once, maybe twice, a week. It's kind of a bummer especially when we know there are packages coming.
I was expecting a package and sure enough it was waiting for me!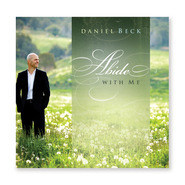 Brownie opened it up and put it in the CD player. She noticed the first song was the same tune and piano accompaniment to a song she had sung in choir last year, only the words being sung by Daniel Beck were completely different. I'm not sure which came first ** The Water is Wide (what Brownie sang with the choir) or When I Survey the Wondrous Cross (which Daniel Beck sang) but both are hauntingly beautiful.
Our family first became acquainted with Daniel Beck's amazing voice in the oratorios Lamb of God and Joseph Smith the Prophet. We compare him to Josh Groban – Daniel is that good. In his latest CD Abide With Me, Daniel Beck sings beautifully arranged hymns: "Lead, Kindly Light," "I Love the Lord," "Abide With Me; Tis Eventide" to name a few. I love when a singer's voice is showcased with, but not overpowered by, the instruments. The piano, guitar, cello and woodwinds used in the accompaniment are gentle, moving, and soothing. They create the perfect backdrop for Daniel's voice. Listen to samples of the CD here to see hear what I mean!
By the time we finished our errands in town the weather had turned sour. The wind was blowing fiercely. The sky was dark and snow was barreling down. Visibility was almost nil. I could feel my stress levels beginning to rise and panic was setting in because we still had over a half an hour ride home! And our van does not have four-wheel drive. And we have to travel on dirt road for 13 miles. And it goes up and over a mountain.
Scary.
I said a little prayer for safety and comfort, turned the CD up louder and almost instantly felt a calming influence surround me.
"Lead, kindly Light, amid the encircling gloom.
Lead thou me on.
The night is dark, and I am far from home.
Lead thou me on."
A tender mercy!
Sure, we've only had the CD for one day. Already it holds a special place in my heart.
GIVEAWAY: I have an extra CD of Daniel Beck's Abide With Me! To enter just leave a comment telling me your favorite hymn. Is there a story surrounding it? Please share!
Mine? I Stand All Amazed. It was the catalyst for my searching and pondering and developing my own personal testimony of Jesus Christ.
Giveaway will end Monday, November 21st at 6pm PST. Open to everyone!
You can buy Abide With Me and other albums at Positive Music and Downloads. Or listen to their online radio station 24/7 at YourLDSRadio. They just celebrated their three year anniversary!
** After some research it looks like "The Water Is Wide" is older by just a few years. It came about in the 1600's while "When I Survey the Wondrous Cross" was written in 1707.
© 2007-2011 Chocolate on my Cranium, LLC all rights reserved