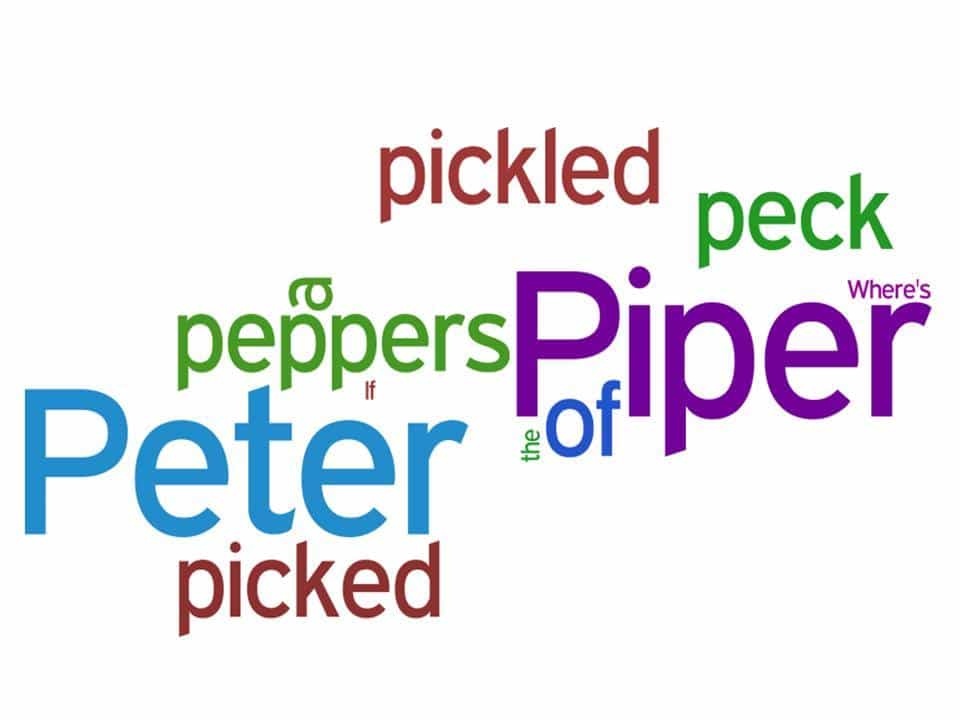 Alliteration is a fun tool to use to get your children to write. In a nut shell alliteration can be used two ways:
Using the same letter to begin as many words in a sentence as possible. Peter Piper picked a peck of pickled peppers.
Using the same tonal sound repeatedly in a sentence, even if that sound is in the middle of words. Do a ditty, ditty dum ditty do (name the song that chorus is in!) The D and T sounds are similar creating an alliterative effect.
The easiest way to introduce alliteration is to read tongue twisters. These are always fun for everyone to try to say!
To write alliteration, have the child use the first letter of their name and write a silly sentence about themselves using the first example of alliteration.
Laura loves leaves.
You could also have them write sentences about themselves using every letter in their name (like an acrostic poem).
Laura loves leaves.
Autumn is almost always her favorite,
Until the umbrella weather undoes her plans.
Rainbows return to rally her to rambunctiously run and roll.
Another awesome autumn day has ended.
With more practice you can use alliteration to describe a day or event that happened, create fun little songs to sing, or even try to talk in alliteration all during lunch!
Here is a good site about the basics of alliteration and using it in poetry.

Be sure to visit these brilliant women during our 10 days adventure between November 7th-18th! I love these ladies and we know you will too.
10 days of Character Studies | Confessions of a Homeschooler
10 days of Christmas Countdown Ideas | Milk & Cookies
10 days of Creative Writing | Chocolate on My Cranium
10 days of Crockpot Meals | The Happy Housewife
10 Days to a Godly Marriage | Women Living Well
10 Days of Growing Leaders | Mom's Mustard Seeds
10 Days of Homeschooling High School | Weird Unsocialized Homeschoolers
10 days of I Wish I Had Known | Fruit in Season
10 days of Keeping Your Marbles | The Tie That Binds Us
10 days of Kid-friendly Food | Planner Perfect
10 Days of Language Arts Lesson Planning | Jimmie's Collage
10 Days of Learning Apps | Daze of Adventure
10 Days of a Mason Jar Christmas | Cajun Joie de Vivre
10 Days of More JESUS in Christmas | Preschoolers and Peace
10 Days to a Peaceful Home | Raising Arrows
10 Days of Raising a Life-Long-Learner | Bright Ideas Press
10 days of Science with Math | Blog, She Wrote
10 days of Teaching Values | Our Journey Westward
10 days of Winning your Child's Heart | I Take Joy

© 2007-2011 Chocolate on my Cranium, LLC all rights reserved