Gratitude can be a tricky thing, at least for me. For many years I struggled to feel grateful in my heart, even though I was surrounded by blessings my life didn't look the way I expected it to. I was angry, so angry that Heavenly Father didn't bless me exactly the way I wanted Him to. I had done everything right.
I would pray to get the blessings I wanted, and I was slowly getting angrier and angrier and started to consider leaving the gospel behind since it obviously hadn't blessed my life. I was angry with myself, with my husband, with everyone around us. I understood the gospel and the principle of gratitude in my head, but not in my heart. I could tell you why gratitude was important, and I could rattle off all the principles, covenants, and commandments of the gospel, but I didn't really get it.
I would try and be grateful, try and have faith. We attended church sporadically. I would keep a gratitude journal only to give it up in frustration. I would make resolutions to complain less, to be nicer to people only to fail and become even angrier and my lack of success. Rinse and repeat. But nothing really made a difference. I carried on that way for nearly two and a half years. Two and half years consumed with envy, anger, bitterness and even meanness.
In this time of darkness my mother gave me two books. She knows me better than just about anyone and she knew that while I would likely not listen to her I would read. At the time I scoffed at the books. "Believing Christ" and "Following Christ" (by Stephen Robinson), what hooey. I'd gone to seminary and religion classes at BYU, I knew it all, I certainly didn't need two little paperbacks. They languished on a shelf for months, until finally, out of all other reading material and wanting something new to read I picked one of them up.
I read it through that night, tears streaming down my face, because finally, finally I understood. I had never had faith. I had always prayed with despair, or unbelief, never faith. I had grown up all my life in the church, but I had never had faith in Christ. I knew The Book of Mormon was true and that Joseph Smith was a prophet, but I had never had faith in the heart of the matter. And once I finally planted the seed and nourished it things changed.
Once I had faith I noticed the people reaching out to me. I realized that though I had sinned I was forgiven, and finally with confidence in Christ I could move forward and feel gratitude. Before all I could see was my lack, but now my heart was full of hope for my future, love for those around me, and gratitude for all the incredible blessings I had. My eyes and ears were opened through faith.
Until the moment I came to finally know and embrace Christ I couldn't feel gratitude. He is the wellspring of every good and virtuous thing. Faith begets gratitude, humility, kindness, charity, forgiveness, and on and on it goes. How do I foster gratitude in my life? It's simple, I nourish my faith through daily prayer, scripture study, and yes repentance. I attend church, I visit teach, I do my calling, I attend the temple. I do all that I kind to keep my faith burning bright.
I know trials never cease, but I also know that having faith in Christ will brighten the darkest of days and truly consecrate them for our good. Whenever I think of Him and what He did for all of us my heart can't but swell with gratitude until it is overflowing into service to those around me.
Thank you, Curls, for sharing your journey to have faith and ultimately gratitude. We owe everything, everything, to Jesus Christ!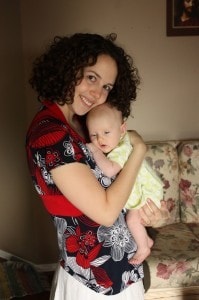 Curls is a wife, mother, daughter, sister and receptionist extraordinaire. When she's not busy chasing her 7th month old around the house she blogs over at Motherhood the Great Adventure and somehow finds time to cook, clean, do laundry, and occasionally play viola. One day (hopefully soon) she plans to finish her degree, and maybe one day even use it to become a published author. Right now though she enjoys each and every day of her maternity leave, and the occasional soak in the tub with a good book.
© 2007-2011 Chocolate on my Cranium, LLC all rights reserved