My family loves these! Packed with vitamin rich pumpkin they are a good choice for snacks.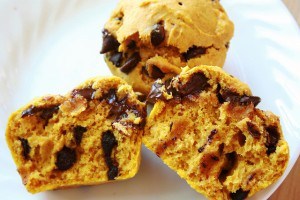 Pin It
Pumpkin Patch Muffins
1 cup canned pumpkin
1/2 cup packed brown sugar
1/4 cup melted butter
2 eggs
2 cups flour
2 tsp. baking poweder
1/2 tsp. salt
Preheat oven to 375. Fill 12 muffin cups with paper liners or spray with cooking spray. In a large bowl beat pumpkin, brown sugar, and melted butter. Add eggs and beat well. Add dry ingredients to pumpkin mixture and stir just until blended. Add any additional ingredient (see variations). Spoon batter into muffin cups and bake for 20 minutes.
Variations: Add any or all of the following
1 cup chocolate chips
1/2 cup raisins
1 tsp. cinnamon
1/2 tsp. nutmeg
© 2007-2011 Chocolate on my Cranium, LLC all rights reserved