Brave.
Who do you think of when you hear that word?
I think of a daughter getting her tooth pulled, another daughter playing the violin in front of 200 people, a friend battling depression, a mother dealing with yet another miscarriage, a young woman overcoming her fear of heights to go repelling down a mountain side, a mother returning to school to get her degree, a woman speaking out against the evils of pornography, a friend celebrating her birthday by skydiving, a sweet young woman who was raped and became pregnant because of that violation but refused to have an abortion and instead carried that baby only to give him up for adoption, breast cancer survivors, abuse survivors. All of these are women I know. And they are brave.
Make no mistake, life can be hard, brutally hard and painful. But it can also be beautiful and full of joy. Those two opposites are always pulling at us. Which direction will we allow ourselves to go?
Katherine Nelson's new CD BORN BRAVE celebrates women all over the world, their courage, their bravery, their strength. In Katherine's own words:
The odds are stacked against us. There is an adversary who knows all too well that the annihilation of the spirits of the Daughters of God will destroy families, communities, and even nations. Women have been born with the ability to reach inside for that instinct of survival, both physical and spiritual. Whether being passed down in our hearts by the countless women and mothers who came before us, or born out of our darkest hours of struggles.

THERE IS A DEEP WELL OF STRENGTH THAT LIES WITHIN US

that fuels our capacity to exercise courage, to face the unfaceable, and to rise above every circumstance. We carry the banner of faith, love, perseverance, and HOPE to all those within our circles of outreach in life.

I truly believe that

WHEN WE STRENGTHEN WOMEN, WE STRENGTHEN THE WORLD.
The songs are moving, touching, and yes, a couple even made me cry. My own daughters have been playing some of the songs over and over again, the messages belting out across the house – life is good enough to eat, what's mine is yours, all I want is where I am, you were born to stand tall, you were born to face the wind, you were born to feel heartbreak and heal again.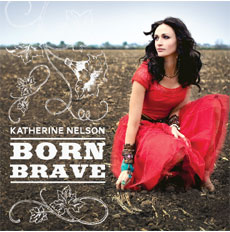 I love that Katherine celebrates what women do. We create babies, homes, legacies. We love our families, friends, the LORD. We teach, lead, guide. We laugh, cry, hurt. We work to make the world better. And do it day after tiring day because we know deep down it matters.
It is hard for me to choose a favorite song on this album. When the day is great and all is going well Home, Sweet Home or Good For Me, with their messages of in-the-trenches motherhood keep me smiling. And when I need a pick me up Born or We Are do the trick.
You can listen to clips of the album on Katherine's homepage or read her thoughts and stories about each song here. Katherine also started an organization called Women Born Brave. They are collecting stories of brave women, women who are an inspiration to their family, church, or community. Go and read, be inspired, and share your story.
I have 5 BORN BRAVE CDS to giveaway! Yes, five!! Courtesy of YourLDSRadio and R Legacy Entertainment. Follow the instructions on the rafflecopter to enter. The two "Leave a comment" entries are: leave a comment telling about a time you were brave, leave a separate comment telling about a woman in your life who is brave.