I adore silhouettes. I also adore cameo jewelry. In college I found an antique cameo ring while browsing in an old shop. It has been part of my jewelry collection since then. Right before I got married a wonderful friend presented me with an antique cameo brooch. It too holds a special place in my collection and is worn only on special occasions.
Today's giveaway is a nod to my love of cameo jewelry with this beautiful necklace from Bumbershoot Designs on etsy.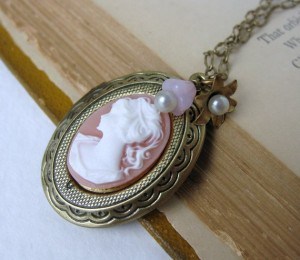 "A beautiful peachy pink and white vintage resin cameo from West Germany is set in an antiqued brass locket and adorned with 2 flower charms made from vintage glass and brass. The tiny pearls in the charms date to the 1930's." Isn't it gorgeous?
Leave a comment telling me a favorite antique or family heirloom you have. Enter using the rafflecopter.
a Rafflecopter giveaway