I am so grateful for all the hard work that went into creating today's post! LeeAnn creates lapbooks to go along with the sharing time themes in Primary. She graciously agreed to create a lapbook about The Family: A Proclamation to the World for our celebration. We like to do lapbooks in our homeschool so I know how much time and work is involved. Thanks bunches to LeeAnn!!
After reading today's post don't forget to hop on over to We Talk of Christ, Diapers and Divinity, and Middle-aged Mormon Man to read more posts about the Family Proclamation!

"We call upon responsible citizens and officers of government

everywhere to promote those measures designed to maintain and

strengthen the family as the fundamental unit of society."

-The First Presidency and Council of the Twelve Apostles of The Church

of Jesus Christ of Latter-Day Saints.
I want to thank Montserrat for inviting me to join this week in the Celebration of the Family. The quote above, which is the last paragraph in the Proclamation, struck me when I read it. I want to be a responsible citizen, and I am happy to promote the family. This invitation provided me that opportunity in a fun way. I hope this lapbook will help you teach your children the importance of this proclamation in these latter days.
As with every lapbook I create, I pray for guidance on how to present the chosen gospel topic and my testimony of each subject grows. I have a lot of satisfaction seeing my children enjoy them and sharing the lapbooks with others via GospelLearningOnYourLap has also been very rewarding.
Here is what you will be creating.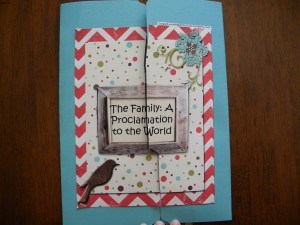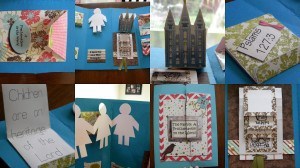 A lapbook is a combinations of a file folder game, quiet book, and workbook. They are great to make for a Family Home Evening or a quiet Sunday afternoon (you know where you are done at 11 am and need a whole lot of Sabbath activities). Lapbooks are made by gluing mini books onto a file folder. These mini books vary from puzzles, letter tracings, flashcards, or the occasional cootie catcher (a favorite).
My family likes to make one or two mini books a week, and we start a new topic or theme each month (check out my CTR Sharing Time lapbooks). Your kids will love helping you build it. They can contribute a lot with the cutting and gluing involved (and work on fine motor skills in a fun way).
Are you making your first lapbook? Check out this post at Gospel Learning On Your Lap for some tips.
Supplies you will need:
*I recommend printing the following mini books on card stock: Temple, waterfall card, I love to see the temple cards, and Family Life vocab.
For complete instructions on how to assemble this lapbook and additional mini books hop on over to GospelLearningOnYourLap.wordpress.com
Paper source: Summer Time Designs Comforts of Home
TOU: These downloads are free for personal and church use only.
Here's to the Family!
LeeAnn

Join us today by sharing your own post on a craft or FHE lesson that has to do with The Family Proclamation! You only need to enter your post once and it will show up on all the other blogs who are helping to host the celebration.