Gender is an essential characteristic of individual…eternal identity and purpose. ..We further declare that God has commanded that the sacred powers of procreation are to be employed only between man and woman, lawfully wedded as husband and wife….Marriage between man and woman is essential to His eternal plan. Children are entitled to birth within the bonds of matrimony, and to be reared by a father and a mother…

In a world full of shades of grey and no moral absolutes, it is sometimes so difficult to understand the above principles. Especially when most of us know someone close to us who has identified as a homosexual or member of the LGBT community.
I have to admit, that when I was asked to write on this topic for Proclamation Celebration, I was a bit nervous. It's a difficult subject that can easily descend into conflict and pain. How do we reconcile what the prophets and apostles have declared as doctrine to the world and the reality of what we face today as members of our families, friends, co-workers and acquaintances openly acknowledge their sexual orientation in opposition to the millenias-old morality as stated in the Proclamation?
I spent some time looking at the general pulse of Mormon culture online regarding homosexuality, and what I found was both inspiring and troubling. Inspiring, because so very many of us are trying to so hard to be kind, loving and open-minded.
So many of us on both sides are doing are level best not to cast stones or exercise unrighteous judgment.
So many of us are just really trying our hardest to compassionately understand each other.
It is truly warming, especially to my mother heart, to see the love that is being poured out.
There are some things that are troubling, though. For one, there is no room for hatred or meanness from those who profess to be Christians, as we do. That is so obvious that I can't even believe that anyone professing to be a disciple of Christ would not understand that.
For those who employ any type of hatefulness, scripture quoting, or any other type of contentious, mean, or ugly behaviors, especially if doing it in the name of Christ, you are, as Elder Holland recently stated, just " a whole bunch of idiots acting like moral pygmies." (September 2012 CES Fireside)
But there is another thing that is also troubling. In all of our efforts to be kind and loving, I am afraid that at times, we don't feel like we can do that and acknowledge the clear, precise words of the Proclamation—our doctrine– that sexual relations are only employed in marriage between a man and a woman, and that gender is an essential characteristic of our eternal identity.
Or these words from an apostle of God, further clarifying our doctrine regarding same-sex attraction:
"We should note that the words homosexual, lesbian, and gay are adjectives to describe particular thoughts, feelings, or behaviors. We should refrain from using these words as nouns to identify particular conditions or specific persons. Our religious doctrine dictates this usage. It is wrong to use these words to denote a condition, because this implies that a person is consigned by birth to a circumstance in which he or she has no choice in respect to the critically important matter of sexual behavior. " (Dallin H. Oaks, October 1995 Ensign, currently referenced in the Gospel Library on lds.org)
No matter how much we try to love our way out of it, that doctrine is still there, sometimes glaringly painful in our relationships with those in our circles who see things so very differently.
Because we cannot compromise the commandments of God.
In fact, Elder Holland also recently stated in the same address, "Our compassion and our love must never be interpreted as compromising commandments. (CES September 2012 Fireside)
God loves all of us. He wants us to be happy. So many of us are trying so hard to figure out how to reconcile things outside of what the Proclamation teaches with true, deep, lasting happiness…and some think they have found a way to compassionately compromise—but in the end, His love does not supersede His commandments, and if we believe what we say believe, we cannot compromise.
But, let's take religion out of it for just a moment.
And, no, I am not going to bring up all the regular arguments and positions that usually come up at this point in the conversation. In fact, my mother heart aches when I hear people contending about all of that.
What really matters is what we do about it—how we act, how we love.
And I love my homosexual friends and family very, very much. With all the nurturing and loving a mother heart can give.
And that's one reason why this part of the Proclamation resonates with me, and it has nothing to do with politics, tolerance, acceptance, or anything like that. It has to do with quality of life and the ability to just live.
In the history of the world, the consequences and effects of the acceptance and spread of homosexuality have been linked to the decline and destruction of multiple civilizations. So, a mother who is interested in keeping her family and civilization alive would not be unreasonable in siding with history that homosexuality is not healthy for individuals or society.
To add to that, HIV, originally named GRID (gay-related immunodeficiency disease), is a disease that is spread primarily by homosexual men. Why did doctors and scientists originally name the disease GRID?
Was it political? Were they bigots? Judgmental Christians?
Hardly.
They were just calling it what it is. The name was changed when homosexual activists succeeded in lobbying and pressuring the medical establishment to switch to the generic acronym AIDS.
Does talking about that mean that I have no compassion for people who suffer from this horrible disease? No. Of course not. But, if there is a way to save even one more person from having to suffer through this disease, including the people I love, I want to use every method to prevent it, even if it hurts to hear it.
The disease doesn't have compassion for people who identify as gay. The disease is discriminatory, not me. There is not a doubt on either side of the debate that a reduction in homosexual behaviors would result in a decrease of AIDS deaths.
That is not hate speech. That is not religious. That is not political. It just is what it is.
And in a study conducted by pro-homosexual researchers in Canada and published in the International Journal of Epidemiology, and other studies conducted by the Food and Drug Administration and the CDC:
While the medical consensus is that smoking knocks from two to 10 years off an individual's life expectancy, the IJE study found that homosexual conduct shortens the lifespan of "gays" by an astounding "8 to 20 years" – more than twice that of smoking.

"[U]nder even the most liberal assumptions," concluded the study, "gay and bisexual men in this urban centre are now experiencing a life expectancy similar to that experienced by all men in Canada in the year 1871. … [L]ife expectancy at age 20 years for gay and bisexual men is 8 to 20 years less than for all men."

Not surprisingly, [a] homosexual lobby and…the…media moved quickly to sweep the IJE study under the rug…

Consider that, according to the Food and Drug Administration, males who have sex with males, "have an HIV prevalence 60 times higher than the general population, 800 times higher than first time blood donors and 8,000 times higher than repeat blood donors."
Adults and children who engage in homosexual conduct, especially males, are also susceptible, at an astronomical rate, to nearly all other forms of sexually transmitted disease (STD). For example, the Hepatitis B virus is about five to six times more prevalent among "gays," and Hepatitis C is twice as common.

But perhaps most shocking are today's syphilis rates among homosexual men and adolescents. A recent study conducted by the Centers for Disease Control and Prevention (CDC) found that although homosexuals comprise only a fraction of the population (one to two percent), they account for an epidemic 64 percent of all syphilis cases.
It is not unreasonable to hold to a belief that homosexuality is unhealthy. Quite the opposite–it is not even opinion or religion that it boils down to–it is a fact that homosexuality poses a huge health risk and is biologically unnatural.
That is not a hateful statement. Or religious. Or political. It just is what it is.
What does make me upset is the fact that the "homosexual lobby," (which is not the same as individuals), in continually trying to hide health information about the harmful side of homosexuality, puts my friends and family who identify as LGBT in danger. Their attempts at "compassionate compromise" aren't compassion at all–it actually can kill.
Ignorance perpetuated so it doesn't hurt people's feelings has never saved lives.
I cannot bear the thought of those I love having their life expectancy shortened by even a year, let alone eight to twenty.
So, I am especially grateful for the clarity of church doctrine in this matter–its pointed, unabashed clarity.
The Proclamation is a message for all human beings, regardless of sexual orientation, culture, or race—about the ideal way God wants us to live.
For many (and not just those who identify as homosexual), this ideal seems like a myth…a naively impossible fairytale. But I am grateful that in spite of the millions of tragic circumstances of so many of us, that the Proclamation has bravely been set as an ideal—as a North Star of our faith—to guide us and help know to what lifestyle we can look for greatest happiness and health.
Often, when talking about this subject, I am met with the plaintive cry,
"Well, you have no idea how hurtful and painful this is."
And, you know, I don't.
Because I am not you.
But, here is something to consider. No one on earth knows how you feel. And the other person who struggles with your exact same problems doesn't know how you feel, either, because he or she isn't you.
I remember when my daughter died, and I was told that I was now in an exclusive club of pain that no one ever wanted to be in, but here we were and there it was.
I've thought about that a lot, and maybe it's important to distinguish ourselves at some point as "parents of an austistic child," or "cancer survivors" or "moms who lost their children," or "person struggling with same sex attraction," but eventually, at some point, we should come to understand that we don't need to stay in that exclusive club.
At some point, it limits us and it is only one facet of an entire, complex, beautiful soul.
Because intense suffering will come to every life worth living.
The struggle with sin and its effects comes to all people.
Heartache comes to everyone with a heart.
And sorrow comes to anyone who truly loves.
And, while it's not the exact same trial or suffering, the pain is all real.
What we need to take from our pain and suffering is to realize that we aren't just part of the "autistic community," or the "LGBT community," or any other such "demographic."
In reality, when we pass through suffering, no matter what the cause–we are part of the community of true humanity.
The Proclamation is a gift in that the principles it espouses will help all mankind avoid the worst kinds of suffering.
As Elder Oaks once said, in his masterful sermon on Love and Law:
The love of God does not supersede His laws and His commandments, and the effect of God's laws and commandments does not diminish the purpose and effect of His love.
I believe the Proclamation on the Family was revealed and given out of intense, divine love and that the simple, sometimes hard-to-hear plainness of it does not diminish that love, but makes it all the brighter.
It is my hope and faith that somehow, we can be the means of conveying that to all the world in the same love it has been given.

Misty is a not-so-crafty Mormon mom and a former Thespian, cheerleader, political blogger, and Australian flower farmer. She and her husband have been all over the country with their twelve children. She is a passionately opinionated sassy pants who loves writing and enjoys caring for old horses, raising chickens, organic food and dates with her husband. She blogs at J & M Ranch and Goodness Matters.
Now hop on over to We Talk of Christ, Diapers and Divinity, and Middle-aged Mormon Man to read more posts about the Family Proclamation!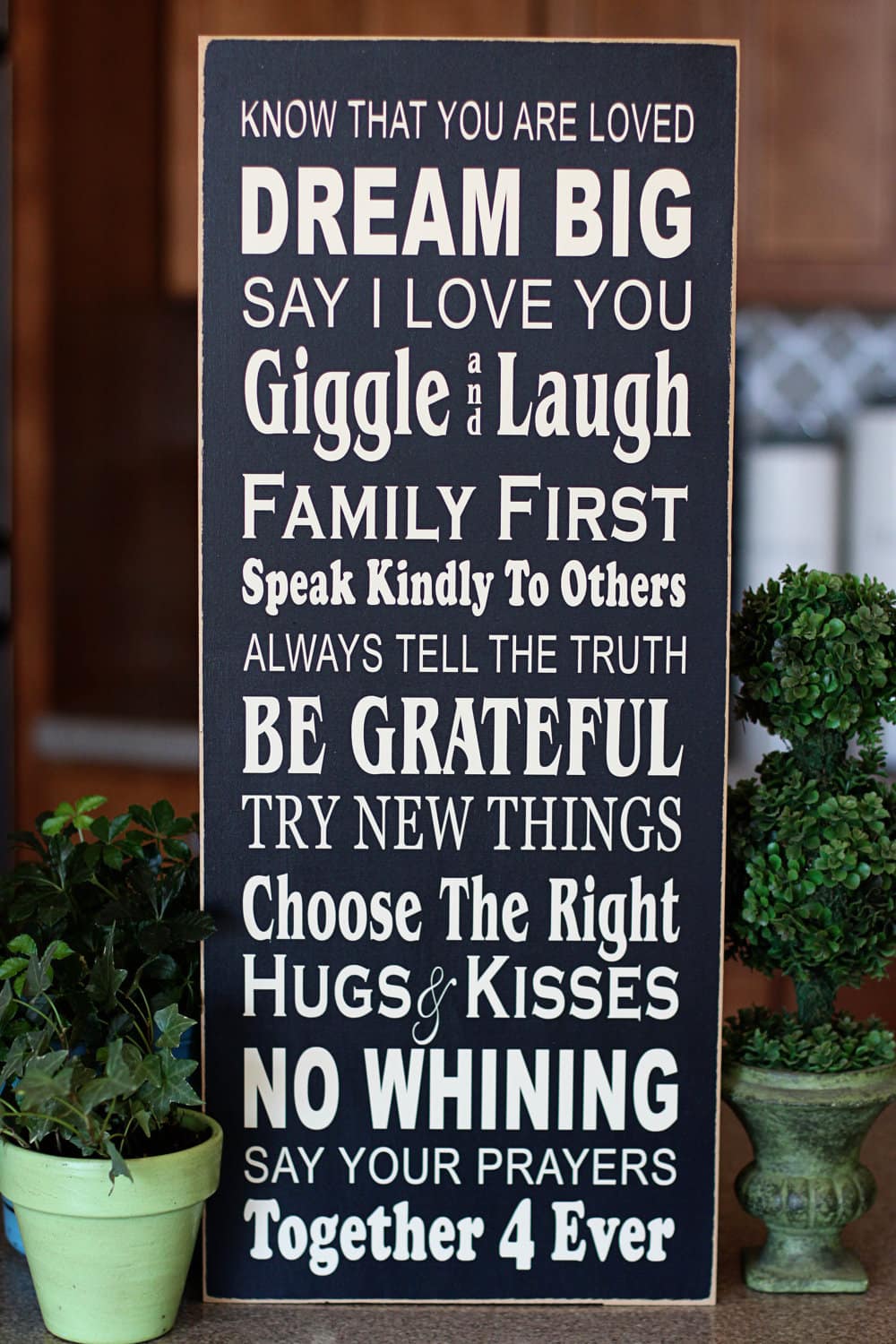 The giveaway this week is a Dream Big Family Rules Subway Art sign from Landee on Etsy. "One of the reasons we love to create things for our homes is because our favorite people live there! We love our families and want them to be in a happy & healthy environment. We always try to create products that are positive, motivating and uplifting. Stop by our shop and find that special detail for your home that you've been looking for!"
In addition to her etsy shop, the ever talented Landee blogs at Landee See, Landee Do, where she shares a plethora of craft and home decor ideas. You can also find Landee on Facebook and Pinterest.
All those who comment on the posts this week will be entered into the giveaway.