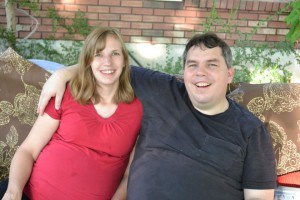 In the premortal realm, spirit sons and daughters knew and worshipped God as their Eternal Father and accepted His plan by which His children could obtain a physical body and gain earthly experience to progress toward perfection and ultimately realize their divine destiny as heirs of eternal life.
The Proclamation says that in the premortal realm, we lived as Spirit sons and daughters. We were sons and daughters! We had a father and a mother and a pretty happy family. Our Heavenly Father wanted more for His children. He presented them with the Plan of Salvation, in which God's spirit children would leave His presence, come to earth and gain a physical body– a body, like our Heavenly Father's.
Some of Heavenly Father's children chose not to follow the Plan of Salvation. We know from the scriptures that because of this choice, these spirit sons and daughters did not get a physical body, and this is a punishment. In Matthew 8:31-32, we learn that these spirits would rather possess the bodies of swine than to be without a physical form.
So the devils besought him, saying, If thou cast us out, suffer us to go away into the herd of swine.
And he said unto them, Go. And when they were come out, they went into the herd of swine: and, behold, the whole herd of swine ran violently down a steep place into the sea, and perished in the waters.
What does a body give us that we did not have?
As Spirits in the premortal realm, we were sons and daughters and brothers and sisters. We learned among a loving family. As mortal beings with a physical body we get to extend that family relationship. Like our Heavenly Parents, we get to be husbands and wives, mothers and fathers. From our physical bodies, we can form a family and become one with a person of the opposite gender in an amazing and beautiful relationship. As couples we can form and bring another person into our families in a relationship so unique that it ties those very people together across generations. And from that we can know our God.
In Abraham 3:26 we learn:
26 And they who keep their first estate shall be added upon; and they who keep not their first estate shall not have glory in the same kingdom with those who keep their first estate; and they who keep their second estate shall have glory added upon their heads for ever and ever.
Diane Robertson is a happy mother of nine. When Diane is not busy taking care of home, family, and education she likes to get involved in politics– particularly to defend the principles found in the Proclamation on the family. You can find out about Diane's family on her blog, The More the Merrier, and you can read her political thoughts on the United Families International Blog.
Now hop on over to We Talk of Christ, Diapers and Divinity, and Middle-aged Mormon Man to read more posts about the Family Proclamation!