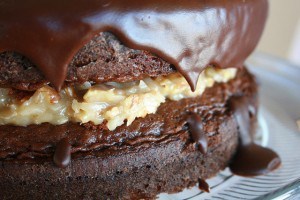 Bon Bon turned seventeen on Monday. This is the birthday cake she made to celebrate. Doesn't it look scrumptious? She combined a few different recipes and made up the chocolate frosting recipe. Hopefully she remembered it correctly for this post!
German Chocolate Cake
1 box German Chocolate Cake Mix
1 recipe Coconut Pecan Frosting
1 recipe Chocolate Frosting
Mix and bake the German Chocolate Cake mix according to the package directions baking in two 9 inch round pans. Let cool. Make Coconut Pecan frosting while cake is cooling. Place one cake round on a cake plate. Add ALL of the coconut pecan frosting. Spread evenly over the top. Place the other cake round on top. Refrigerate until cold. Make Chocolate Frosting. Pour on top of cold cake letting some drip off the sides. It will stiffen as it touches the cold cake. Refrigerate for at least one hour. Serve.
Coconut Pecan Frosting
3 egg yolks
1 cup sugar
1 cup evaporated milk
1/2 cup butter
1 teaspoon vanilla
1 1/2 cups flaked coconut
1 cup chopped pecans
Combine egg yolks, sugar, evaporated milk, butter, and vanilla. Cook and stir over medium heat until thickened, 12 to 15 minutes. Add coconut and pecans. Beat until thick enough to spread.
Chocolate Frosting
6 tablespoons butter
1 cup chocolate chips
2-4 tablespoons cream
In a small saucepan melt chocolate chips and butter stirring until smooth. If it is too thick to pour add cream one tablespoon at a time until you get to a thick but pourable consistency. Pour over cold cake.