It's a beautiful white, pogonip Sunday morning. I love those mornings when it is so cold outside the windows of the house fog up because of all the warmth inside. When the kids left for church it was a chilly -7 outside. Brrrrr! Little Ganache and Hershey aren't feeling very well so I stayed home from church with them.
I've spent the past couple of days rocking one or the other or both at the same time. Funny how when a child gets sick all they want is their mama. Right now I have a little respite as they are both on the piano bench pounding away and "singing." It's pretty cute!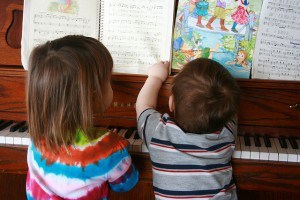 Usually when sickness comes and things are slow I get a little impatient thinking about all the things I had planned to do but can't. Remembering
avodah
has really helped this time! The impatience I started to feel building up left when I focused on the here and now. In the brief moments when the littles were sleeping or content to lay on the couch occupied with other things I was able to actually do quite a bit – catch up on laundry, clean the laundry room, scrub my bathroom, clean up the kitchen, and even supervise Cookie (8) and Fudge (10) make chocolate chip cookies all by themselves.The basics that keep a household running.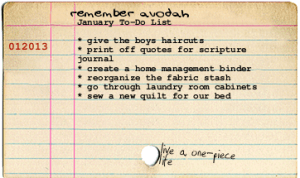 Looking at my list of things that didn't get done I realize it is okay: the boys can survive a few more days with hair hanging over their ears, putting quotes in my scripture journal aren't as important as actually studying the scriptures, etc. I am content with what did get accomplished.