In the comments of the last post about our polished rocks many were asking what rock tumbler we used.
We purchased this, Model A-R1 Special Kit Rock Tumbler
for Fudge. It is the perfect introductory model for the hobby of rock tumbling. The drum holds 3lbs of rocks. We put in about two cups of regular sized rocks but there was room for more.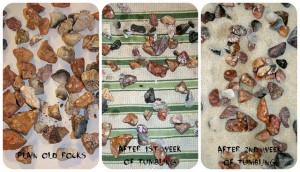 I realize I should have used a plain white towel each time we changed the grit and water to show the progress of the rocks better. Oh, well. Live and learn. The first week the rocks are tumbled with coarse grit and enough water to cover the rocks. The second week we used the fine grit.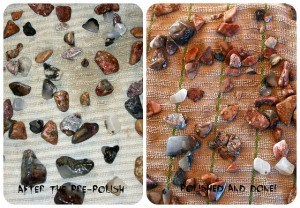 The pre-polish grit is only used for three days and then the polishing grit for another week. It was always exciting to open up the tumbler, rinse off the rocks, and see the changes that had taken place. In hindsight we should have saved the slurry from each step in labeled jars. We're pretty sure it could be used several times over. Instead we dumped it outside. 🙁 Now I have to order more grit for the next batch of rocks.
The tumbler is very simple. The drum just rests on top of two rollers which rotate thus turning the tumbler round and round. It was actually pretty quiet. It runs continually for the whole month. We put ours in the garage so little fingers wouldn't mess with it.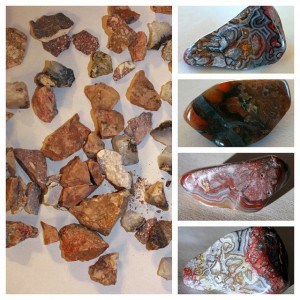 All of the rocks that are tumbled together need to be about the same hardness or else the softer ones will get pulverized in the process. There's a hardness scale in the pamphlet and simple tests you can do to your rocks before tumbling to determine the hardness. It really is a fun tool that can teach so many science and life lessons!