One of our favorite Easter decorations is this Resurrection puzzle I bought a couple of years ago.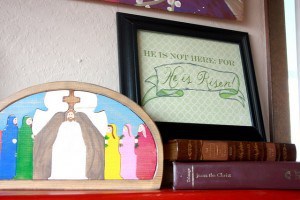 I love how it is simple, focused on Christ, and tells the story of that miraculous Easter morning through the figures.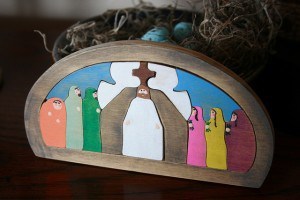 Can you tell who they are? Though they weren't all there at the same time each was at the tomb at some point on Easter morning. Starting at the left you have a sleeping centurion, and two apostles Peter and John. On the far right are three women: Mary Magdalene, Mary, and Joanna. The Resurrected Christ is appropriately featured in the center of the tomb with two angels at the top.
I recently ordered a mini version to take to church with us. And to cut down on the fighting as to who gets to do the puzzle next. 🙂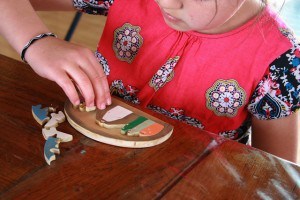 And guess what? I have another mini one to give away today! Created by the talented Jennifer Rose at
Arts of the Heart
, to help tell the true meaning of Easter. Jennifer has other handmade wooden toys for sale. And yes, we also have the
Nativity puzzle
she sells. My children love these!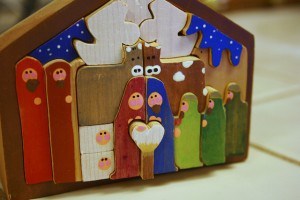 The giveaway will run until Wednesday at 6pm PST. I want the winner's family to be able to enjoy it for a couple of weeks before Easter. I'm trying out a new giveaway widget. You do have to enter your e-mail address but only I will be able to see it. I will use that to contact the winner.
Giveaway is now closed. Thanks for participating!