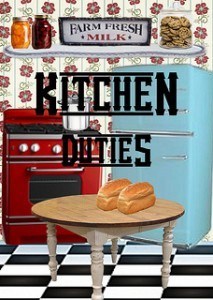 Since I'm being induced today and my brain is fried anyway I thought I'd combine three posts I wrote several years ago on how I have taught and am teaching my children to cook. There have only been two changes in how we do things since I wrote them. Our food budget has increased to $125 – $150 a week and we now have four cooks able to do it all. Without further ado…
Teaching Children How to Cook
Every child loves to help cook and bake. The magic of mixing ingredients together to produce yummy cookies and getting to spend time with mom or dad in the process of it all creates some fun experiences. It can also become overwhelming when there are too many helpers that create a bigger mess taking more time to cook something than if mom just did it herself. I know. I've been there. Actually I'm still there.
When my two oldest were about 5 and 6 I realized the need to create a "battleplan" of sorts to teach them to cook without causing extra stress on my part. I also wrote down my long term goals of skills I wanted my children to learn: cooking and baking, creating healthy menus, writing grocery lists, and sticking to a food budget.
Now that my two oldest are totally independent in the kitchen doing the whole shebang I've realized the fruits of my labors have been very sweet. It was a long process but so worth the end result.
Cooking and Baking
Kids of any age can help in the kitchen as long as you keep in mind their fine motor development, not giving them tasks that are too hard for them to accomplish, and provide plenty of supervision as well as patience mixed with a dose of humor.
Cooking should be a fun, enjoyable activity for all involved. Remembering the following will greatly help to keep cooking fun: it will take longer to cook things, messes will be made, mistakes will be made, but it can be a rewarding experience.
The chores at our house are rotated on a weekly basis. This means each child gets kitchen duty for a whole week, cooking and cleaning. Plenty of opportunity to cook and bake a variety of dishes during their turn.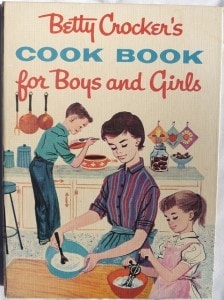 18 months – 2 years old
My little ones begin by helping me to pour and stir. Not only do they enjoy dumping stuff (think of their play in the sandbox here) they also enjoy mixing things together. Sometimes I even let them use their hands. That may sound uncouth to some of you, but little kids really learn by touching and feeling. No harm is done if a good hand washing preceeds the baking.
3-5 years old This age group gets to help do the measuring, learns to crack an egg (in a separate bowl of course so you can extract shells before they get into the batter), wraps potatoes in foil, and chops soft food with a butter knife (olives, bananas, etc).
6-8 years old I start teaching them how to read a recipe and follow it. They also get to start cooking on the stove top with plenty of supervision, help grease pans, fill muffin and cupcake tins, crack eggs by themselves, start using the mixer with supervision, and get to use real knives for chopping fruits and vegetables, grate cheese, etc.
9-11 years old My kids are given more independence in the kitchen. They are taught to use the oven properly. They can usually cook on the stovetop without much help – flipping pancakes, cooking meat, etc. They read the recipes and follow them with very little help from me.
12 and up After having all these years of preparation by this age my kids are able to do everything without my help, including plan the meals for the week and create a grocery list that sticks to our food budget. These areas will be covered in later posts. At this age they also like to experiment with recipes trying different spices or even creating new recipes. Sometimes it makes for very interesting meals. ☺
Meal Planning
We all want our families to eat healthy. This can be hard when we have picky eaters that only like noodles, bread, and shredded wheat cereal. Not very well rounded, right? Teaching my children to cook also involves teaching them about proper nutrition and consequently meal planning. Meal planning has so many benefits: cost savings of groceries, knowing ahead of time what to cook thus decreasing stress, healthier lifestyle (less eating out), and when kids are involved – less picky eating!
If you aren't already in the habit to plan meals ahead of time please change your habit! It really is a lifesaver. Once you get in the habit you'll be more influential in teaching your children this skill.
An easy start to planning meals is to make a list of every type of main food dish you normally eat. I have a long list of chicken dishes, beef dishes, seafood recipes, soups, breakfast foods, etc. that I keep on the side of the fridge. When we try a new recipe that we like we add that to the list. When it's time to sit down and plan out the meals for the week it's handy to look at the list for ideas.
How Our Family Plans Meals
Every family situation is different. You may only need to plan for dinner for the whole family for the week. Because we homeschool and live on a farm we are able to eat every meal together as a family. I LOVE this! Our main meal is also lunch because during the hectic days of summer the men all quit at a certain time in the heat of the day to go home for lunch, whereas dinner time varies depending on whether hay still needs to be hauled, or baled, or machines fixed before the next day's work. We plan every meal for every day of the week because we can and need to.
Our chores are rotated on a weekly schedule which means each child has one week where they are in charge of the kitchen including meal planning, cooking, and cleaning. Our weeks run from Sunday to Saturday (following the calendar) but my shopping is all done on Wednesday (out of necessity to consolidate our trips into town to save on gas) so my weekly shopping list covers half of one child's week and half of another child's week. When it's time to create our menu plan for the next week here's what I expect depending on the age.
4-6 year olds will usually suggest just the main dish. I'll add the sides on my own. As we cook together during their week I'll usually say why we're having certain side dishes so they learn that having a variety of vegetables, fruits, and legumes helps to keep our bodies healthy.
7-10 year olds will suggest every part of the meal with tweaking from me to teach them the importance of rounding out the meal from each food group. "Corn, potatoes, and bread? That's a lot of starchy foods. Why don't you think of a different vegetable?" The food pyramid is introduced. We also talk about having a variety of colors on the plate so a meal looks more pleasing.
11 and older I expect them to do it all on their own and they do! Occasionally I have to remind them to serve more vegetables or not serve beef dishes three days in a row but for the most part they are able to plan excellent yet simple meals.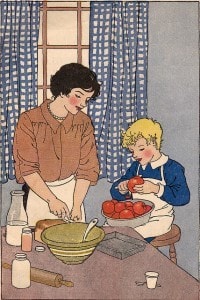 One benefit of letting my children meal plan that I didn't foresee when I started was the whining and complaining of what was served dramatically went down. Once my children realized how much effort is involved in planning meals and then cooking them they were less inclined to make negative comments, especially when they knew those comments could be made to them on their days of cooking.
It's been so fun to see the different cooking styles of my children emerge. Bon Bon loves to do "gourmet." She really gets into cooking and consequently experimenting, and wow does she have a natural talent for it. Thursday we had homemade ravioli with two different sauces, a wonderfully rich and fattening homemade alfredo sauce and a sweet tomato basil sauce. I swear I always gain weight on her week of cooking. Semisweet is more like me. We like to eat healthier, have more whole grains, lots of veggies and keep things simple but delicious. Brownie's style is starting to peek through a little too. We know it's her week to cook because we ALWAYS have tuna noodle casserole. Do you know any other person in the world, much less a ten year old, whose favorite food is tuna noodle casserole?
Take a little time this week to plan your meals. Involve your children! Whether you give them a whole week to help or rotate days instead it doesn't matter. Just give them the experience and chance to learn.
We've made a menu for the coming week but it won't be successful if we don't have all the ingredients necessary to make everything on our plan. Creating a grocery list and sticking to it when we are shopping is the next part of learning to keep a well run kitchen.
I didn't mention in the meal planning post that when we plan our meals we do so by first looking to see what we already have in the freezer and pantry, then we look at the grocery sales ads. Doing this helps to keep our grocery costs down. We typically spend $80 – $100 per week on groceries. Really! Our grocery budget is strictly for food. It does not include toiletries, diapers, etc. Those fall under a different category in our family budget. I budget $100 a week for groceries. Whatever isn't used one week is rolled over to the next week so that usually by the end of a couple of months I have an extra $100 – 200 dollars to make a "big" shopping trip to Winco or Costoco to stock up on canned goods that we've used. If you want to read more about how we save on groceries etc read the following posts that I wrote the first month I started this blog:
Planning a Menu
Grocery Shopping Tips
A Well Stocked Pantry
On to how I teach my children to make a good grocery list.
3-6 years old. We talk about what foods we'll need to make each main dish. Then I'll take them to the fridge, freezer, and pantry and let them look to see if they can find them. I usually make the grocery lists on my own.
7-10 years old. They'll look at the recipes for each main dish, check to see what we already have, and write down what we need to buy at the store. I'll then double check it all. When we are shopping I start helping them see what items are cheaper and why. We look at the price per ounce for packaged goods and the price per pound for fresh food. They learn that because one brand is on sale it doesn't necessarily mean it is the cheapest one to buy.
11 and older. By this time my kids are experts at looking through the ads and the pantry and creating a shopping list that sticks to our budget. If they could legally drive themselves to the store I'd let them do it all! Instead when we get to the store we divide and conquer. I give them part of the list and let them find what we need. And darn if they aren't better than me sometimes!
A word about buying the cheapest brand. For some foods we'll buy the store brand but for others we buy well known brands (like Hidden Valley Ranch). We want to like what we eat so we start by buying the cheapest brand first. If we like the taste and quality we'll stick with that, if not we go to the next cheapest brand and so on. We keep on testing until we find the one we like. We do buy many of the store brands. They've come a long way in quality! But there are just some foods like Hidden Valley Ranch and Yoplait yogurt that have no comparisons. We don't feel bad buying those when we've saved so much elsewhere. We can afford it.
Do you have any tips for teaching your children how to cook? Any other questions you'd like answered? Share in the comments!