You know how you have those certain people who you just get along with and feel as if they are "kindred spirits?" This is how I felt about Eliza R. Snow after reading the book Eliza, The Life and Faith of Eliza R. Snow.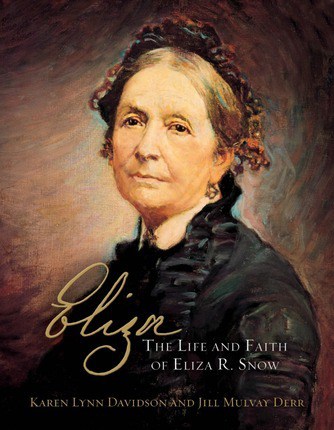 It opened my eyes to a more personal side of her that I hadn't known before. I knew about Eliza R. Snow but until now I hadn't felt like I knew Eliza R. Snow.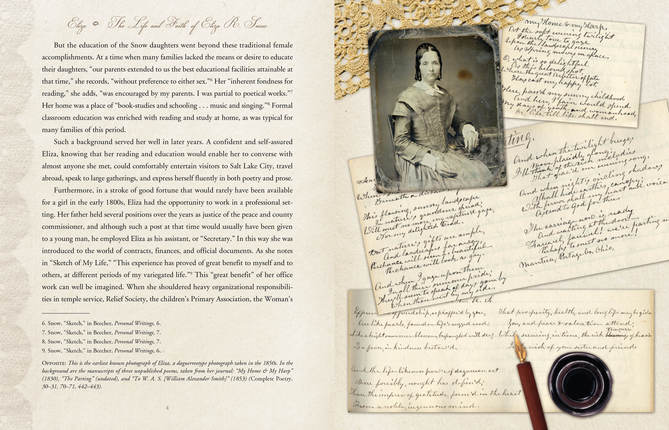 Interspersed throughout the book are photographs and personal artifacts and letters of Eliza, or "Zion's Poetess" as she was known. It makes a beautiful presentation and brings an added depth to the book. But it is Eliza's poems that are incorporated into this biography that help me come to feel what she felt and see what she saw and witness what she witnessed.
Although many of us are familiar with some of Eliza R. Snow's religious poems such as O My Father,Though Deepening Trials, and Awake, Ye Saints of God, the majority of her poems were about events happening around her. She wrote poems to grieving parents at the death of a child. She expressed admiration for places she visited and people she met. Eliza also wrote about events that affected the saints such as the assassinations of Joseph and Hyrum Smith, the extermination of the latter-day saints from Missouri, and the founding of the Female Relief Society organization in Nauvoo. One of my favorite poems is about her mother as a farmer's wife. It echoes the qualities of Proverbs 31.
The Farmer's Wife
If there's a smile on nature's face
It is the farmer's dwelling place –
If house-wife has whereof to boast
The farmer's wife may claim the most.
The richest products of the soil,
The finest wheat, the wine and oil –
The fruits, the dainties of the land,
Are at the farmer's wife's command.

The wool and flax which he provides,
She manufactures and divides
Among her household as they need.
She's blest in blessing – rich indeed!
Well busied at the wheel and loom
Her constant feet abide at home:
Her husband's heart rewards her toil,
Without distrust – no fear of spoil.

Well skill'd in all domestic cares –
Content to mind her own affairs –
What truly makes a woman blest
Is by the farmer's wife possess'd.
Ye idle fair, who scorn employment,
Yours is a mimic pale enjoyment:
The royal treasures of content,
Unto the farmer's wife are sent.

Ye maidens who are blest with sense,
Wit, beauty and intelligence;
Whene'er you leave the single life,
Be each, a thrifty farmer's wife.
Ye vainer ones, who're fond of show,
Who step so mincing as you go,
Uf you would make the best of life,
Be, (if you can) the farmer's wife.
I hope to meet this extraordinary woman one day in the 'sweet by and by.' What stories she could share and tell! And I would just sit in rapt attention to it all.
Disclaimer: I was given a copy of Eliza, The Life and Faith of Eliza R. Snow from Deseret Book to review. All opinions are my own.