would you go? Would you take the chance you had been given to listen to over 100 leaders from around the world advocating for stronger families? During our last Family Proclamation Celebration I wrote a post about defending the family and outlined three areas we can take a stand: in our homes, in our schools, and in our communities. We know the attacks on family are getting more and more brazen. We cannot stand idly by when there is a call to action now.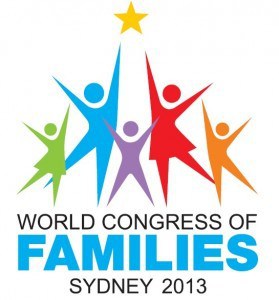 As a blogging community we have the chance to help one of our own attend the World Congress of Families which seeks to inspire people from all walks of life to consider and implement strategies to help strengthen the natural family, the economy and civil society. Educators, business leaders and professionals, policy makers and more from around the globe come together to discuss and share ideas. In years past it has been held in Amsterdam, Prague, Madrid, Geneva, etc. Next year it is in Moscow at the Kremlin. But this year it is being held in Sydney, Australia just three hours away from where Angela Fallantine lives.
I don't believe it is just a coincidence it is being held so close to her home. Why? Because Angela is a strong advocate for the traditional family and right now she's on a roll! Angela wrote a guest post as part of the Family Proclamation Celebration a couple of years ago. Earlier this year she and her husband had the opportunity to testify before the Parliament in New Zealand about their belief in traditional marriage. You can read about her experience here. Now Angela has the rare opportunity to continue her work in defending the family but she needs our assistance to cover the cost of airfare and entrance into the Congress. Once there she will be able to keep us updated on all the happenings by:
Providing commentary, guest blogging and photography on the World Congress of Families
Taking your specific questions and concerns one-on-one to influential leaders in the press/VIP sessions;
Creating photo essays to help capture the power and energy of thousands of people from around the world, converging on Sydney to defend and protect the family;
Creating a YouTube video compilation of the conference for you to share on social media sites;
Providing summaries of the keynote addresses; and
Seeking to inspire people from all walks of life to consider and implement strategies to help strengthen the family in their communities and realms of influence.
What an amazing opportunity she has! Can you donate even just $1 to help
If you do, would you please click on that link to donate?
Muchas Gracias!