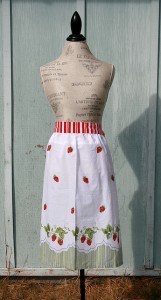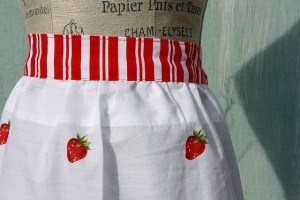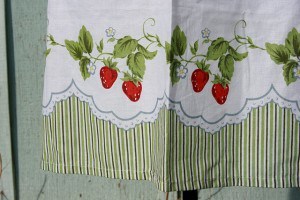 See my latest creation? Made from a discarded cafe curtain, it was inspired by this breakfast scene from a new television series from BYUtv called Granite Flats.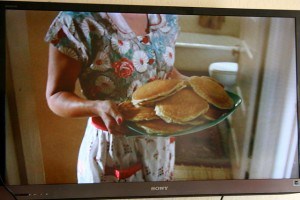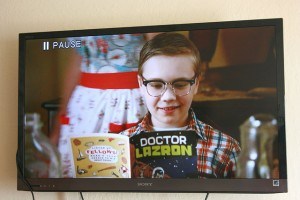 The series premiere of Granite Flats doesn't air until April 7th, but my family and I got a sneak peek at the first two episodes. It is great family entertainment! A new scripted series, it has a little Hardy Boy mystery mixed with cold-war era drama but all with clean fun the whole family can watch. And I mean the whole family. There is no bad language or scenes to be wary of but the plot is not simplistic, uninteresting, or childish which is what usually happens when you find a "family friendly" show. Adults and children alike will enjoy watching this together. Just what is Granite Flats about?
It's 1962 when recently widowed Beth and her son Arthur move to rural Granite Flats, Colorado. They meet a town thrown into fear and suspicion after a terrible explosion at the nearby air base. As the military and police investigate, Arthur and his new friends explore the mystery and begin to unravel a web of secrets that will change Granite Flats forever.
Sounds intriguing doesn't it? We've watched the first two episodes several times already. My kids are somewhat disappointed that they have to wait three weeks before they can watch the third episode when it airs on BYUtv.
Back to my apron. One of the first things we noticed watching Granite Flats was the clothes. Oh the clothes! My teen daughters and I were drooling over the dresses the women were wearing. And their hairstyles too! Since it's not so easy to sew a dress I decided to go for an apron instead. After seeing the one on Granite Flats I remembered I had this cafe curtain with similar colors. I found some coordinating fabric for the waistband and ties and whipped up the apron in less than half an hour because the curtain was already hemmed. We love it!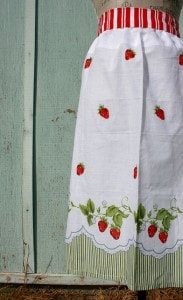 And now one of you has a chance to win it! Follow the instructions in the Rafflecopter.
a Rafflecopter giveaway
You can watch a few teaser videos on the
Granite Flats youtube playlist
. Don't forget to watch the series premiere of
Granite Flats
on April 7th on BYUtv. If you have DishNetwork, DirectTV, or even cable chances are you already get BYUtv. Check your local listings for air times.
I received a 1962 inspired package from BYUtv for sharing my opinions about Granite Flats. Guess what was included in the package? An apron! Score!