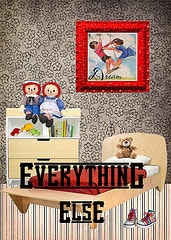 Spring weather is finally here for most parts of the country. Yesterday was downright hot here! Time to start planting gardens – both flower and vegetable. Today as part of our Establish A House series I'm sharing how we plant a "wild" flower garden every year. These pictures were taken five years ago. I can't believe how much the kids have grown!
There is a long narrow strip of dirt in our front yard that just begs for flowers. I could design a landscape for it and fill it with perennials but I prefer a "wild" look. It's easy to do, we get to see the flowers grow from seed, and it never looks the same way from year to year. It also provides the terrific spot for a summer nature study.
Everyone gets to choose one type of flower they want to plant. To keep the garden "wild" looking we mix all the seeds together in a paper bag. We open a bag of potting soil into a wheelbarrow, then pour all of our flower seeds into it. This year we are planting several varieties of daisies, sunflowers, marigolds, zinnias, poppies and other wildflowers. After pouring all our seeds over the potting soil we mix it really well.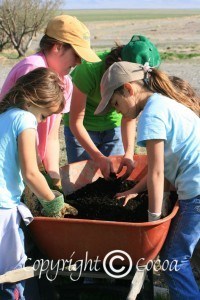 After mixing the soil and seeds we spread it evenly all over our flower bed. This creates a "wild" flower garden, which I just love. There is no rhyme or reason to where the seeds fall.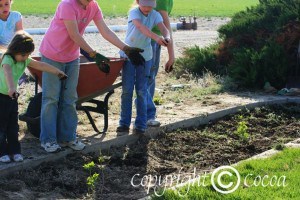 We keep it watered and play the waiting game – for several weeks – until the seeds start sprouting. Now the fun really begins. We all learn to identify what each flower is by looking at the leaves.
Whoever spots the first bloom of the year gets a special treat!
Throughout the summer we continue to watch our garden grow and bloom.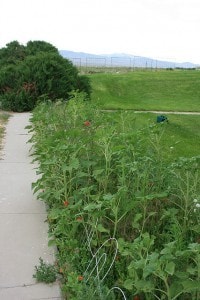 Looks nice and "wild" doesn't it? When the plants start blooming you'll find: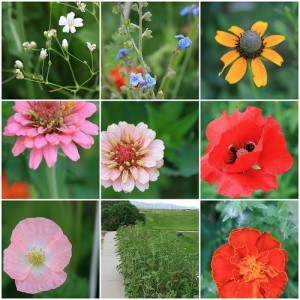 It really is beautiful to see! Even the hummingbirds enjoy our "wild" flowers.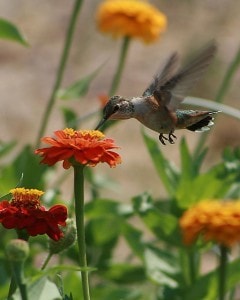 Get excited for spring! Create a little spot in your yard for a "wild" flower garden.